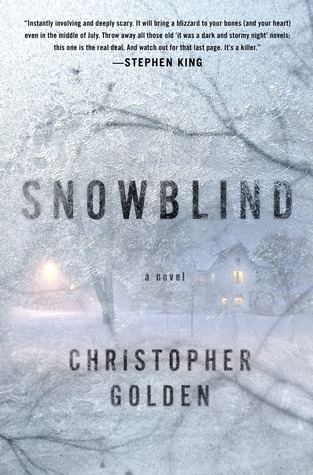 Zombos Says: Good
The bedroom scene around page fifty jolts a chill, more so than the blizzard raging beyond the smashed window, even if those whispering voices and cold, malevolent, faces riding the storm's wintry gusts of air and frost keep getting closer. Lesser chills follow this scene, taking place in the novel's twelve-years-earlier prelude, but Christopher Golden invests brooding eldritch evil across two blizzards to effectively wallop us and the townspeople of Coventry, Massachusetts, with a vengeance. Especially when those people include not only the ones who survived the first storm, but the ones who didn't and are now returning when another approaches. Just ahead of those evil others.
Like zombies, a blizzard can make you feel trapped, keep you isolated, and leave you praying for quieter times (or at least a good pudding or cup of hot cocoa). So there's an inherent uneasiness, discomfort, and concern that Golden easily taps into, to start with, by adding his snowy horror. His icy bogeymen are mysterious, deadly, and elicit welcome shudders, riding the currents of the first blizzard as Officer Keenan struggles to save a life, Doug and Allie suffer guilt and loss, and TJ and Ella spark a future they will find difficult to hold on to. The first blizzard leaves a lot of people dead, missing, or left coping with their memories of that night and their lost loved ones. 
Golden directs our eyes and feelings through those people who survive and through the ones who didn't. He reveals what's become of them, including the Great Recession's effect on their lives. Intertwining these revelations with the frosty bogeymen hunting in the snow drifts and the wintry night air make us fear for  everyone's safety, especially when locked doors and shuttered windows do not keep the monsters out. This simple but classic form of monstrous presence, of ancient evil beings that are seemingly unstoppable, can be found in many novels (especially in recent ones), but combining this presence with the impending whiteout conditions and relentless cold raises the suspense level significantly. Golden diminishes his overall reach for scares by failing to sustain the supernatural mystery he builds up so well in his first fifty pages by offering an explanation for the bogeymen through dialog spoken by a wraith to characters desparate for explanations. In horror, no explanations are needed; just the inexhaustible terrors of the unknown when it bears down on you with deadly intent. 
In twelve years' time, Officer Keenan becomes Detective Keenan, and Doug sinks into criminality. Other lives also change, for better or worse, and Golden's narrative relies on these changes to propel the middle of his story, leading up to the showdown that will either heal open wounds or open more of them. At the beginning and toward the end, he provides more action than an icy snowball fight on slippery ground, by moonlight, with mittens on. His handling of everyone's motivations is the strongest part of his narrative, holding our interest, ultimately creating disappointment when his denouement is not formulated with as much dexterity or pacing. 
But you will imagine how bitter cold and isolating it must feel as the threatened brace themselves against the storm's frigid blasts and the monsters riding them; you will fear the evil things hiding in the snow and wonder how these people will ever survive as you turn the pages to find out; and you will indeed hope they make this into a movie, but not one directed by Rob Zombie, Uwe Boll, or Stephen King.