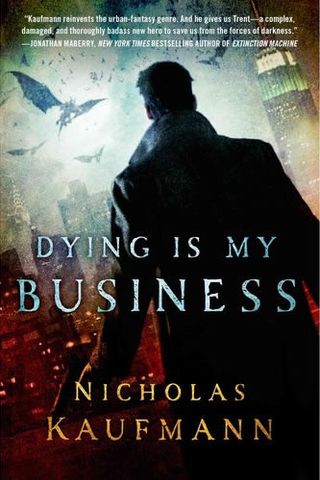 Zombos Says: Good
Once you get past the funny sounding names of magical things and strange places, urban fantasy can be a lark. That's what's usually the main hurdle to surmount when writing an urban fantasy story: the whimsical and mystical nature of it can become too light-hearted, which is detrimental to suspense-building, or all those weird sounding names can take it too far out-there, making it hard to get that suspension of disbelief going while you're figuring out their pronunciations.
Nicholas Kaufmann in Dying is My Business clears the hurdle. His main character, Trent, wakes up from death in a Queens Playground--possibly his ninth death, but he can't be sure since he only remembers the past up to a year--and winds up being the muscle to a crime boss who strings him along, promising to tell him all about the whys and wherefores of those other years. Once Trent gets involved in the hunt for a mysterious old box his end of the business is complicated when the Black Knight, razor-clawed gargoyles that work for the Black Knight, and Bethany, a five foot whirlwind that may look like an Elf--he thinks--but kicks like a mule, shows up looking for the box, too. While he kind of saves her while she's kind of saving him, cue the romance as their bruises heal and the mystery of Trent's abilities grows. Is he a mage himself? Or something better? Or worse? Bethany has her charms and spell-castings, but Trent seems to have the golden touch of magic without needing objects to channel it through.
The book's title and the hunt for the mysterious box may bring to mind Mickey Spillane's Kiss Me Deadly, but Trent's soft-boiled exterior doesn't take the novel to that level of bleeding gums and bruises. It's breezier, less grime-crime ridden, and with a touch of romance conducted in-between the gunfire and fighting more suitable for anyone who enjoys a novelous time of fantasy and magic. Kaufman brings likeable characters encountering fantastic events with a tone much like a Warehouse 13 or Buffy the Vampire Slayer episode: a little tongue in cheek, a lot of shadow and crimson. It's not the reinvention of urban-fantasy, but a well executed storyline that uses the genre's tried and true elements against the backdrop of New York City and the Cloisters.
Where Kaufman needs to conjure a little more magic is in his descriptions of scenery and people. He stops short of fleshing them out more vividly, leaving you with a good idea instead of a fuller picture. For instance, I'd beg for more on the city beneath New York City, hell, I'd even call it the land beneath New York City, and Gregor the Dragon ruling it. I'm sorry I didn't get to spend more time in it, but maybe in the next novel in the series we'll return and spend a few days.
And of course there are zombies. Not the messy people-eating kind, but the more traditional dead body controlled by Necromancer kind: also known as the revenant. And there are lots of them, topped off with walking-skeletons called Shadowborn, who can wink in and out, appearing anywhere in the blink of an eye, making them a bitch to kill. Lucky for Trent he has Bethany and her little group of evil-stompers, comprised of a werewolf, vampire, and magician, to fight along side of.
With the Black Knight and his gargoyle minions against them, and a Necromancer sending hordes of rotting corpses after them, they will need all the help they can muster. But only Trent has the knack for coming back alive after being killed. That comes in handy for him, but his friends aren't so gifted.