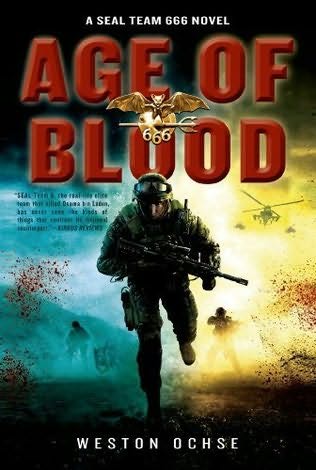 Zombos Says: Good
The military, once again, is charged to go above and beyond the call of duty when a senator's daughter is kidnapped. SEAL Team 666 is called in when the kidnapper appears to be a giant sea monster. 
Rapid firing military argot, precise munitions details, and procedural and gagdet-gear acronyms galore, Weston Ochse struts his literary military might with gusto, creating a fast moving, chupacabra slugfest against a very smelly rotting-skin-coat wearing cult called Followers of the Flayed One, the Los Zetas Cartel, and enough Mexican demons to let the blood and bullets flow and fly.
At no point, however, does Ochse let us even remotely think SEAL Team 666's dry-humored gun-toting whipcords of American might may be overwhelmed or ill-prepared for the job, and that's a suspense-killer.  With a final showdown beneath Mexico City, and a demon-driven return to the human sacrifices of the Aztecs taxing their limits, the expecation that all hell would break loose at any moment never materializes. 
Instead, his stalwart soldiers carry on, figuring it out and planning for the worst as they go, but always with a gung ho attitude that never says die. When one of their own is possessed by a dog-like demon (that barks a lot),  in service of the more powerful evil force orchestrating events, they stick to their operations protocols and dutifully work it into their schedule. This would be a complete drama-downer if Ochse didn't razzle-dazzle with his steady attention to that doing it by the book, then deviating a little here and there to intersperse short background breaks for his men that provide more character depth than their precision, training-driven action allows for. It's a wonder how he keeps his novel from becoming completely formula-driven even while it relies heavily on that formula.
So let's call this one at being a light thriller with good characterizations, the expected but still effective dialog that's in keeping with those characters, and a storyline that's part pulp action, part military-jargon mystifying, and overall quite satisfying because he structures enough supernatural and human mayhem along with plausible (werewolves aside) genre complexity that doesn't require us to read a field operations manual first to make Age of Blood entertaining.
But we may just want to read that manual afterwards because he's sparked our interest.