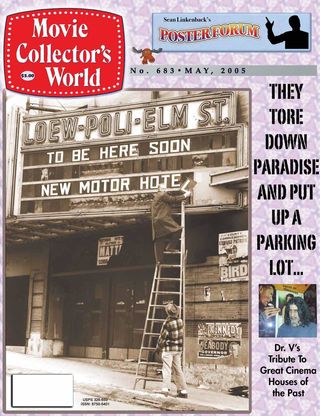 With the kind permission of Brian Bukantis (Arena Publishing) and the author Dr. Vollin (Freddie Poe), I'm happy to be able to reprint Dr. V's article, They Tore Down Paradise...And Put Up a Parking Lot, which originally appeared in the May issue of Movie Collector's World, No. 683,  2005.
Many of you have heard me speak or write about the glory days of movie-going in my home town of Worcester, Massachusetts. The idea for this article came from my frequenting a local Honey Dew Doughnut Shop. While sitting there at 8:00 in the morning one day, sipping my usual eye-opener, I noticed an elderly man doing likewise and I thought to myself "Where do I know this guy from, he looks awful familiar." I never forget a face--a name maybe--but not a face.
I continued seeing this man at the coffee shop for some time, until one day while sitting next to him, being the social butterfly that I am, I leaned toward him and said "Excuse me. I know you from somewhere but I can't recall from where?" He replied "Well, my name is John DiBenedetto.  I used to be the manager of the old Poli Palace in downtown Worcester." "Oh wow!" I said, "now I remember you! I used to go to the Poli when I was a kid! You haven't changed much at all. Sure. I remember you. You were always dressed up nice, with a suit and all. Wow, nice to meet you!"
My new found friend seemed thrilled that I had remembered him; after all, it was almost 40 years ago. I told John that I was a writer and wrote about collecting old movie paper, mainly from the horror genre. John, now a spunky 83, immediately started to reminisce about the bygone days of the movie theater industry in Worcester. We spoke briefly that day, but before we parted I told John that I would love to do a piece about him and the old movie theaters here in Worcester. And would he mind having his brain picked by the "Doctor"? John told me he stopped into Honey Dew everyday between 8:00 and 8:30 a.m. and that he would be glad to talk about his days as manager of the Poli Palace, Worcester's premiere movie house of it's era. Hence the birth of this article.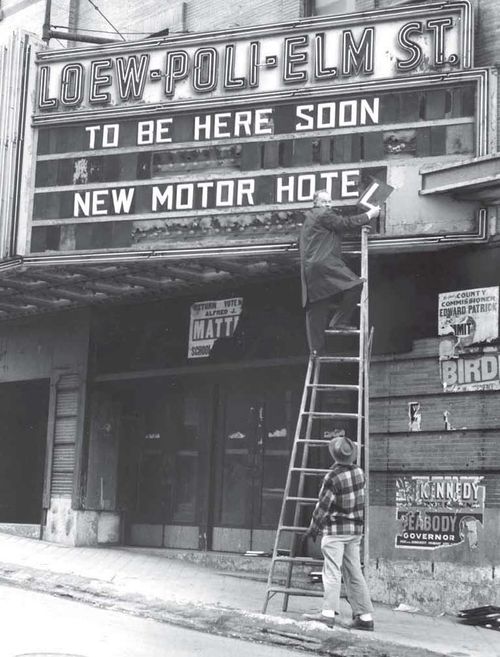 The screw started to turn in this half-century old cranium of mine. I started to think about how great it was going to the movies as a pre-teen in the early 1960s. Only movie fans my age or older can remember the old school movie theaters. If you missed the 1960s and started attending movies in the mid to late 1970s, I feel bad for you. If the megaplex movie theater, showing four or more films at once, is all you can recall, then you missed the true experience of movie-going as it was once known.
While this story may seem to be personalized, or only about my locale, it really is not: it is possibly and probably the story of almost every movie theater of my era. What happened here in Worcester, Massachusetts, once a movie theater hot-bed, happened in every town everywhere almost simultaneously,  and across the U.S.A movie theaters closed, one after another.
I consider it a high point in my life to have stepped through the portals of the past into the lobbies of these grand old movie theaters, before they gave way to urban development and the wrecking ball, and the megaplex format (sorry, no lobby posters for you, you saw the previews on the boob tube anyway). Writing this article was going to be a different stroke of the pen for yours truly. Most of my research went on right here in my office at the House Of Poe, with the exception of my annual Chiller article, which I outlined while on locale in the swamps of New Jersey.
But this article involved legwork...