I acquired this photograph of a deleted scene from Dracula, courtesy of David J. Skal, through eBay.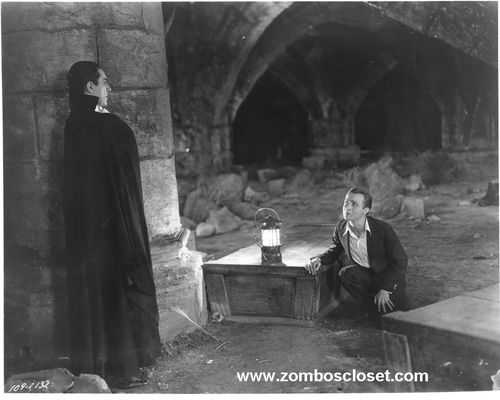 Here's Mr. Skal's listing details:
"This is such an iconic horror image it's easy to forget that scene doesn't actually appear in the final release print of Universal's 1931 horror classic DRACULA. Short scene of Renfield (Dwight Frye) pledging his fealty to Dracula (Bela Lugosi) appears in the shooting script, was recorded as filmed (by the numbered scene still), but was cut from the release print for unknown reasons. The footage itself has been lost, and this photo is all that remains. Item is an older print (from the 1970s) on 8x10 glossy fiber stock, bordered, in pristine condition (has been carefully stored for the last twenty years). Custom darkroom print with unusually nice gray scale--the folds of Dracula's cape, for instance, are sharply visible. No marks, crimps, pinholes. or damage of any kind. A few very small spots in background are negative artifacts, not a flaw of the print. From the personal research collection of David J. Skal, author of HOLLYWOOD GOTHIC and THE MONSTER SHOW."