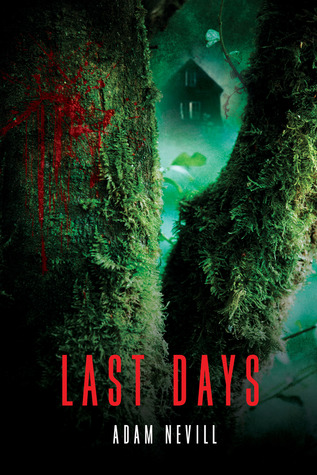 Zombos Says: Very Good
Adam Nevill never quite reaches the level of terror and suspense for his readers the way his characters are feeling it in Last Days, but readers do come close when the Presences come calling. 
Similar in subject matter to Peter Straub's A Dark Matter, there's a sinister cult called the Temple of the Last Days led by a charismatic, if mentally unbalanced, leader, a portal to a dangerous place opened that should never have been, and a man interviewing former cult members--the survivors--to find out what happened when its active members died by gunshot wounds, being gnawed to death, or by beheading one night some years ago. 
The person doing the inquiring is Kyle, a documentary filmmaker--he smokes Lucky Strikes and uses Canon cameras--hired by Max Solomon, a producer who wants to start a series of documentaries with a paranormal angle. At least that's what Max says. He leaves out a few important details, which we learn about later, along with Kyle. But Kyle is driven: he needs the money and also needs to prove to himself he's really as good as he thinks he is. Along with his cameraman Dan and his film editor, Finger Man, he's dead set on finding out why those cult members died, even if something that should be long dead and buried is set on finding him first.
The novel could be trimmed down from its 500 and some odd pages to tighten up the suspense and quicken the pace, but Nevill generates some scary moments when those nasty looking black stains Kyle begins to notice on the walls start to take on human shapes, and the smells of sewage and decay follow him as he visits the locations where the cult had headquartered. Accompanied by former members who left it before THAT night, he interviews them: there's Sister Isis at the Holland Park penthouse with her "small brittle body with a face that made Kyle think of a clown" and  Brother Gabriel, at the farm, who looked like "an Egyptian mummy wearing a Harpo Marx wig." Every one of them is scarred and scared of something they are reluctant to talk about but Kyle keeps digging.
After the interview in the penthouse during the day, Kyle and Dan return at night, after a few pints downed at a local pub, to collect their equipment. Odd sounds, a scampering presence, the sounds of doors slamming, and the smell of sewage scare them enough to question what they actually experienced. At the farm, more dark stains, nauseating odors, the sounds of unseen dogs barking, and Kyle left alone as the sunlight wanes ratchets up the terror, especially after he discovers what's living in a derelict bed.
You would expect the last location, the Blue Oak Mine where the murders took place, to increase this build-up of paranormal terrors, but Detective Sweeney's brooding, aloof, interview, even though it provides more disturbing and confounding news to Kyle, bogs down the momentum already built up. From this point on, Nevill illuminates the mystery more, but has lost his subtlety in involving our fears when doing so. Kyle experiences more and more strange nightmares, Max gets more and more involved, and those stains on the walls are getting nearer to Kyle. 
A secret meeting in Antwerp, to learn the history of the Blood Friends, depicted in a cursed triptych painted in 1556, is so richly captured in sordid detail, I wonder why Nevill chose to merely explain it through a static dialog exchange instead of bringing us back in time to experience it as it happened. The final showdown with these Presences and a revelation of the cult's ultimate purpose plays out much like the procedural difference between an A to B movie: tone, mood, and nuance are replaced by perilous action, blazing guns, and ill-planned-for contingencies that create discord for Max, Kyle, and Max's muscle for hire during their encounter with the damned; somewhat disappointing given the more artfully executed beginning. One gets the sense Nevill was reaching for his deadline instead of his limits.
But damn their luck, there are a lot of them to contend with, so a strong B movie ending it is.