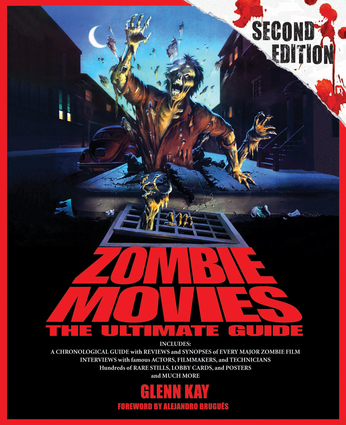 Zombos Says: Excellent
I worry about Glenn Kay. Putting together a guide like this can be pretty exhausting, let alone having to watch so many good, bad, and stunningly ugly movies about the walking dead. Unless he's got his own television to hog, you can imagine the frays he gets into with the family. "What, isn't there anything else we can watch?" "Watching all this tripe will rot your brain. Are you listening to me?" "Daddy, I don't want to see more people being eaten. It's too yucky!"
You have to wonder what it's like to meet him at parties, or when he's going out to dinner with friends, and those times he needs to while away the dead hours in-between updates to his Zombie Movies: The Ultimate Guide.
Most horror fans would understand, though, and there but for the grace of God (or George Romero) goes Kay, summarizing, bashing, or praising the legion of celluloid undead that have eaten up our viewing time since Bela Lugosi's White Zombie. What's truly frightening is that given all the movies he covers within his guide's 400-plus pages, there's hundreds more he doesn't, either because they're too esoteric or out of reach or so godawful to watch even he's not that crazy.
The dead are laid out by decade, giving a bird's eye view of how zombie movies rotted out our sensibilities by taking ever more liberties with their nastiness--the more evocatively eerie voodoo zombies slowly evolving into our generation's screamingly terrifying, but beloved, flesh-eating variety. Not sure why the 1990s zombies took a nose-dive at the box office? This may shed some light on the subject for you. Did the social media boom of the 2000s speed up zombie locomotion? Kay has some thoughts on the subject (although decaying, fast-moving zombies are nonsensical to my mind).
Are you a Naschy or Jess Franco fan? Their zombie movies are here. Kay is not that keen on them (but neither am I). Are you a fan of hopping zombies, like those in Return of the Chinese Boxer (1975), or so bad it's funny zombie fare like Garden of the Dead (1974)? They are in here, too, either alluded to with a nod or a longer musing that takes into account the camera movements, effective effects (or not so much), and the exemplary or shoddy or giddily, stupidly, funny scripts. If you're a zombie fan you will be alternately pleased, annoyed, and maybe not so sure with your prized movies' standing as rated by Kay. He and I seem to jive on most accounts, although he's a bit enthusiastic on titles I'd rate a single thumb's up. This is an informative reference work to dog-ear and crimple often.
What makes this an entertaining and necessary volume for any horror fan's bookshelf is the mix of television and theatrical movies and series episodes that contain outright zombie elements--or close enough--to warrant their inclusion (although you may feel Kay stretching in some instances if you're a diehard zombie purist). And if realizing there are movies you haven't seen yet like Chopper Chicks in Zombie Town (1991) isn't satisfying for you, Kay's interviews with Greg Nicotero, Tom Savini, Stuart Conran (who gives the scoop on the blood mix used for Dead Alive, 1992) and others will seal the deal. Colin Geddes even explains why those Chinese vampires hop!
The only downside is it's only 400 or so pages.