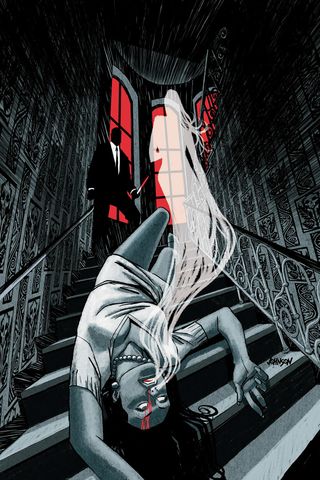 Zombos Says: Good
Unfortunately, I can only give you two reasons to pick up Vertigo's one shot, Ghosts: the unfinished story by Joe Kubert, The Boy and the Old Man, and the Geoff Johns and Jeff Lemire story, Ghost-For-Hire. Reasons for not picking up this anthology would include the remaining stories, although Run Ragged would have been a treat if the whole story was here and not just the first part.
Comic anthologies usually are a mixed bag of trick or treat. Either you get a unified series of stories around a theme, or you get a bunch of stories searching for one; Ghosts lies somewhere in the middle. The stories that fall flat and fail to "terrorize" (or fit uncomfortably) within these nine tales  are: Wallflower (beautiful artwork, worn-out storyline);  A Bowl of Red (half-baked horror concering a bowl of hellfire hot Chili); The Night After I Took the Data Entry Job I Was Visited by My Own Ghost (artwork matches story mood perfectly, but the "message" story itself has been done to death ); Bride (will someone, anyone tell me what the hell this story's about?); and Treasure Lost, which is lost in this anthology themed around ghosts, although I get the tenuous allusion.
The poignant The Dark Lady fits in with the anthology's theme well, but it is incomplete, a mere slice of a larger storyline. The same problem occurs with Run Ragged, part one of a Dead Boy Detectives tale. Part two will appear in the next anthology. Running a continued story in separate anthologies seems awfully gauche to me. 
As for the two reasons to stick around, Kubert's The Boy and the Old Man is more a curiousity piece, and one that doesn't fit well within the ghosts theme. But for fans (like myself) who appreciate seeing his last work, this is worth a look, not so much for the story as for the art. Here you can see Kubert's first draw-through, laying out the action and positioning, which he would later embellish. Ghost-for-Hire is a predictably scripted plot, but the characters keep it humorous while adding depth. This would make for a solid series on its own.
Reading  various comic anthologies these days, you may get the haunting sense they were loosely put together with stories that had no clear publishing intentions. Ghosts suffers from this and I expect more sweetness-kick from my Halloween treats than this saccharin anthology provides.
Here's a key take-away: name talent isn't enough to make an anthology; you need to do something consistently worthwhile with it.
A courtesy reviewer copy of Ghosts was provided to me for this review.