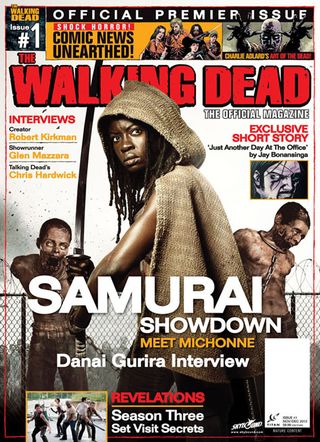 Zombos Says: Very Good
The Walking Dead magazine debuts today. Newsy bits on everything you can stuff a Walking Dead survivor or zombie into abound. Both the comic book series and the AMC television series are covered. Toys, games, events (like the 2012 San Diego Comic Con), you name it, it's all here, published quarterly. Here are some highlights of what I enjoyed reading the most in this first issue.
Stuart Barr's The Story So Far...covers the comic book's storylines up to the present. Don't read it if you're skittish on possible spoilers for the television series (or the comic book if you're a spotty reader), but here's your chance to come up to speed on the Walking Dead comicverse. And just when you come up for air the third season preview does tempt you with spoilers; I love spoilers, especially the who-lives-and-who-dies kind. Just keep in mind the television series and the comic series don't always jive, so expect surprises and fresh takes on characters and their travails. Looks like the Governor and Woodbury will be popping up, though, sooner than later.
Tara Bennett takes us to the West Georgia Correctional Facility set (Raleigh Studios, Atlanta) to provide us with some insight on the design, like how the prison cell lighting is toned to create just the right mix of gloom and despair, and there are a horde of interviews covering a wide range with Charlie Adlard talking about drawing the Walking Dead comics and Glen Mazzara, the show's executive producer and showrunner, giving us his daily grind on making the television series. Of course there's an interview with Danai Gurira and her new role as Michonne, the Katana-wielding zombie slayer with her two leashed, and defanged, walking buddies. Gurira talks about her prep work for the role.
A quick read but very informative is the article, Anatomy of a Story. In this first installment, A Larger World (a storyline which played across comic issues 91 through 96) is examined. Storyline insight is not only useful to writers looking at how key elements of character development drive successful plots, but it also can be fun for any Walking Dead fan who's interested in knowing why they are a fan. Sure, the zombies are cool, but it's the walking living that keep us coming back for more.
Speaking of cool, there's a shot of Gentle Giant's The Walker Horde, a scrumptious set of little plastic zombie figurines, due on toy shelves sometime in 2013. Here's my plan: I take these little terrors and pile them up around my Clone army. Yeah, baby, now that's what I'm talking about. Lightsabers, Clones, and zombies! George?
For completists, here are the variant covers: