And now a Halloween treat from author Sally Bosco...eat up...
Kyle sat in his mother's Lexus with his arms crossed over his chest. "I don't see why you have to drive me. The other kids get to walk by themselves." His parents were always trying to protect him from some imaginary evil they thought would get him, and it drove him crazy.
"Listen, you're still too young to go trick-or-treating on your own. You don't know what kind of wackos might be out there, especially on Halloween. Next year you can get a group of friends together and go on your own in the neighborhood."
He sighed, opened the car door and put his booted foot onto the pavement. His Batman cape caught as he tried to get out, yanking him back, so he had to pull it out from being stuck between the seats.
His mom stood in front of the car, watching him. Her blond hair was pulled up into a ponytail, and she wore a matchy jogging suit. She leaned against the car, pulled out her phone and started texting. "Don't take too long," she reminded him.
He didn't really want to be there. What good was it if your mom drove you trick-or-treating like when you were a baby? As he approached the small wooden house he noticed that it had a single flickering light illuminating it. The night seemed to grow darker as he approached. He knocked on the front door. A dour woman in a brown floor-length dress with a dirty hem peered out. She eyed the young boy and handed him a dried up biscuit with no wrapping around it.
 The thing in his hand looked like a tiny shrunken head. "You gotta be kidding me. How about some chocolate?"
She scowled at him and yelled directly in his face with rancid breath. "If you're a God-fearing child you'll say prayers for the dead and be happy to get your soul cake."
 "What? Soul-what?" Crazy lady.
 "Soul cake. Don't act like you don't know." She grabbed his shoulder and tried to pull him into the house, but he wriggled away. That was it. He was outta there. He turned to run. When he got out onto the street, he saw a dirt road with no streetlights. The houses on the street were sparse, easily a quarter of a mile apart, and his mom's car was nowhere in sight.
A feeling of panic overtook him like icy skeletal fingers wrapped around his throat. He wondered if he'd somehow gone out the back door of the house. No, this was so wrong. What was happening to him? He felt cold and confused. His eyes darted up and down the street looking for his mom.
Kyle stared down at himself. In place of his batman costume, he saw tattered rags. His hands should have been covered by Batman gloves but they weren't; they were dirty and had jagged nails. He felt his face. It felt the same, despite the lack of the Batman hood he had on a few minutes ago, but when he wiped it with his hand, he noticed a dirty, sooty residue. His lips quivered as he tried not to cry.
 An old hag wearing a tattered ankle-length dress and brown scarf tied around mousy brown hair emerged from the murky darkness. "Where's the cake?"
Kyle looked at the dried up cake the woman at the house had given him. It was nasty and not even sealed. He threw it at her. "Here's your stupid cake. Now where's my mom?" He stepped around her and called into the murky night. "Mom?"
The woman snatched the cake off the ground. "You should have more respect for your elders." She grabbed him by the ear sending a shooting pain through his head. "Stop this foolishness right now. Our family needs those cakes to survive. You will go into the next house."
The woman pulled him down the dirt road. Where were the streetlights? The bright suburban houses had disappeared, replaced by an ominous darkness he'd never seen before. Even the glow of the nearby city was gone. He'd been thrust into some kind of nightmare world.
She shoved him up a muddy path toward a rough timber house that was little more than a shack and pounded on the coarse wooden door. "Now you will bring a soul cake home to feed our family."
 The inside of this house was even bleaker than the last. Two old people and five kids dressed in rags sat around a rectangular table that had something piled onto it. In the dim candlelight, he couldn't tell what. Their faces illuminated by the single candle looked like Halloween lanterns. A terrible smell of something rotten with an incense scent masking it assaulted his nose.
As Kyle drew closer, he saw the outline of a head and small body laid out on the table, partially covered by a tattered sheet. When he realized that the people were sitting around a decaying corpse the vomit rose in his throat. He covered his mouth with his hand trying to block the horrible smell. The room spun as he stood there, so he grabbed onto a nearby post to steady himself.
 "You will say your prayer for the dearly departed," the older man demanded. Then his voice cracked. "Our dearly departed son, Joshua."
Kyle wracked his brain trying to remember a prayer. The sooner he could remember one and say it, the sooner he could leave. "Our father." His voice shook as he mumbled. "Who art in heaven." He stumbled over the rest of the prayer, hoping it was right.
"Hmmp. That's a fine way to honor our Lord. Here's hoping that you've properly eaten my boy's sins." He thrust the dried up biscuit into Kyle's trembling hand. "Here's your cake."
He thought if he didn't get out of there soon, he'd vomit, so he made a clumsy bow to the family and stumbled out the door. At the first whiff of fresh air, his insides relaxed, but his revulsion still caused him to vomit into the bushes.
Kyle wiped his mouth and tried to get his bearings. He took the dried up cake and stood up against a nearby tree, while trying to get his stomach under control. With his head down, he trudged up the path and held the biscuit out, handing it to the old woman. "Here. You can have your miserable cake."
"What's up with you? This is a Twix bar, your favorite." He looked up to see his blonde mom in front of her Lexus. The streetlights shown brightly, the windows of the houses twinkled, and off in the distance the nearby city glowed.
He pressed himself against her and hugged her. "Mom, I love you so much. I'm sorry I gave you a hard time before."
 "What happened? Did you have some kind of life-altering experience?"
"I don't know what happened? It's like everything changed for a couple of minutes."
"Hmmm," she said stroking his bat-caped shoulder. "You should have these kinds of changes more often."
Kyle sank into the soft leather seat trying to erase the outline of the small corpse from his memory.
This story is copyrighted by the author.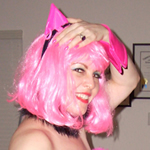 Sally Bosco (SallyBosco.com) writes dark fiction. She is inexplicably drawn to the Uncanny, the shades of gray between the light and dark, the area where your mind hovers as you're falling off to sleep. She loves writing young adult fiction because she strongly relates to teenage angst, the search for self-identity and the feelings of being an outsider.
Her published novels include: AltDeath.com, Shadow Cat (written as Zoe LaPage, her adult alter-ego), and The Werecat Chronicles, and she was a contributor to Many Genres, One Craft. She's had short stories published in literary magazines and anthologies, including the Small Bites anthology and most recently Hazard Yet Forward, which is an anthology to benefit Donna Monroe, one of her Seton Hill classmates who is fighting breast cancer. She has an MFA degree in Writing Popular Fiction from Seton Hill University.