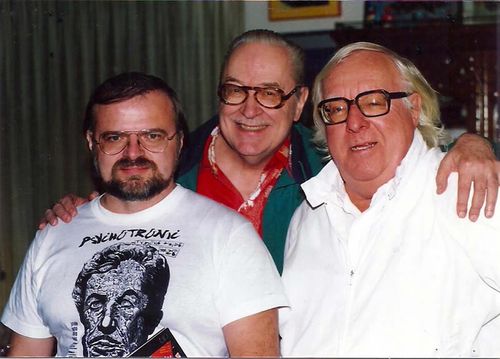 In the 1970s I wrote a letter to Ray Bradbury inquiring about what would be involved in adapting some of his stories for a TV series. Basically it was for information on my part, since there was no potential for a TV series existing...for me, that is. He promptly wrote back informing me that all of his stories belonged to him, personally and completely. He then mentioned what the price of the film rights would be for each of the stories I mentioned. Needless to say, it was way out of my class. He concluded the letter with a word of encouragement. 'Why not write something original?' Most other authors (at least those who would bother to answer) would simply say something like, 'Buzz off kid, not interested...unless you could come up with the extraordinary fee for what I've written.'
Mr. Bradbury encouraged one to write.
In the early 1990s at Unkka Forry's birthday weekend I had the pleasure to actually meet him in the Ackermansion. He kindly autographed several items for me and posed for an informal picture. These inscribed items not only contained his signature, but the date of the inscription. This serves as a fond memory of the day I encountered the 'Dean of Science Fiction Writers.' He had been labeled a science fiction author, but in articles I've read about him he prefered to be considered a Fantasist.
We chatted briefly. I didn't bring up the letter I wrote to him. No doubt hundreds have been written to him. He wouldn't have an immediate recollection of mine.
At the birthday event he got up and related a few fond thoughts about his boyhood and lifelong friend, Forry. One comment he made about what he shared with the Ackermonster was "We both grew old...but we never grew up. "
A great epitaph for not only Forry Ackerman and Ray Bradbury, but for all of us who love living in the realm of the Fantasist.
Professor Kinema (Jim Knusch)