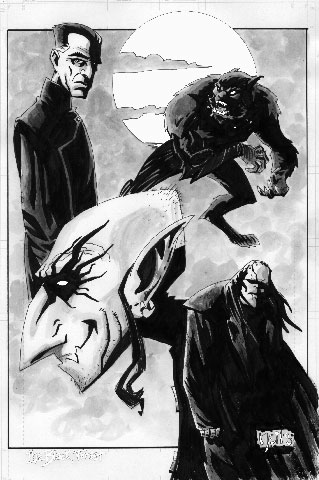 Zombos Says: Very Good
Hankering for an old-styled, light-hearted, comic book classic monster fest? Livingston, Tinnell, and Vokes may have one for you in The Black Forest graphic novel.
The story takes place in 1916 during the Great War, and the German army, through an especially evil scientist, is trying to find a way to revive dead soldiers (yes, zombies!). Holed up in the Black Forest in Graf Orlock's castle no less, the especially evil mad scientist feverishly toils away using Dr. Frankenstein's crib notes of life and death for his experiments, and the Monster to aid him.
Enter our valiant but foolhardy American hero, Jack (not sure why every valiant but foolhardy American hero is always named Jack or has a monosyllabic name), and Archibald Caldwell, magician and occultist, who, like real-life magician Jasper Maskelyne during World War Two, uses his special skills to assist British Intelligence in the war effort.
The black and white panels are reminiscent of Harvey Kurtzman's comical characters combined with a dash of Gene Colon's fluid and dynamic panels. This is another graphic novel that cries out for a magazine-sized format to fully appreciate the artwork. It needs a few more pages, too, especially the monster battle royale toward the end between the Frankenstein monster, the werewolves, and the vampire Graf Orlock.
There are Alan Moorish bits throughout, like Caldwell's ability to regurgitate lock picks he has swallowed, a skill Houdini put to good use, and Caldwell's dead wife is pickled upright under glass, in a panel very similar to the scene in The Black Cat, where Vitas Werdegast's wife is preserved by his arch nemesis, Hjalmar Poelzig, the evil cult leader. Boy, these evil guys all think alike, don't they?
The adventure is written in a pulp-style and is fast and furious. I highly recommend it to anyone who likes a ripping good yarn with classic monsters, evil scientists, and heroines in need of rescue.