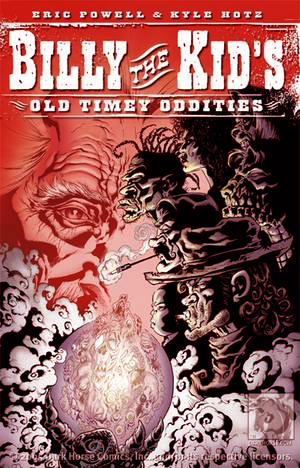 Zombos Says: Very Good
Kyle Hotz shows the freak in Billy the Kid's Old Timey Oddities while Eric Powell puts in the odd with a pyschotic Dr. Frankenstein--who looks a little like Peter Cushing--and a Billy whose kid-side abuse leaves him one claustrophobic and ornery character you wouldn't want to tangle with.
Billy joins the Tattooed Woman, the Wolf-Boy, the Alligator Man, Watta the Wild Man, and the diminutive Jeffrey Tinsle (who's as tall as his name is long) in Fineas Sproule's Biological Curiousities and Wild West Extravaganza Show. His quick draw and deadly aim will be needed as Sproule journeys to find the Golem's Heart Jewel, now in the possession of one flesh-tinkering mad scientist protected by his surgical monstrosities.
The four-issues collected here never dull the tone or sashay around. With this fictional Billy's sweaty flashbacks of being locked in tight places, his lecherous proclivities stymied by a chaste Tattooed Woman, and both Sproule's and Frankenstein's oddities amply envisioned,  each page provides enough reading and oggling to  keep the momentum going, maybe a little too quickly, but never too slowly. Their arrival in the mysterious mountain town, overshadowed by Frankenstein's foreboding castle, is met with rot and foul smells, trepidation, Billy's creative wall piss-signing, and monstrous, wall-clinging, inhabitants. The "dinner" party with Frankenstein and his malformed minions provides the anticipated clash of egos, heightens the mania, and springs the action to suitably potboiler intensity.
Hotz's use of coloration is odd in itself, with yellow, buttery hues butting up against the Western browns and reds in the beginning, but settling down to more shadowy, darker hues as they journey further into trouble. His gamboling art provides character depth and nuance, allowing Powell's dialog and situations to reach their full breath. Humor, pathos, and weirdness mix it up dime novel strong, making this matchup, between artist and writer, Billy the Kid and monsters, and Wild West and horror, one that I'd certainly like to see again.