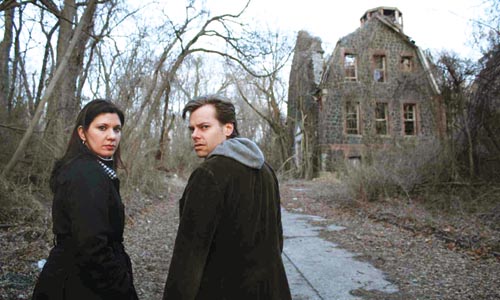 Zombos Says: Very Good
We all like to play in the discarded places, the abandoned buildings, the dark forests, pretending the devil is calling for his due, or imagining the dark shadows hide dangerous things that can't reach long enough to catch us. All this play exhilarates us, and let's us experience evils that hold no power over us. We scare ourselves with urban legends and thrice-told folktales of dreaded things, and play even harder to outrace the Boogeymen.
In 1987, the Boogeyman reached long enough to snatch 12-year-old Jennifer Schweiger into the darkness. She wasn't the first. From the 1970s to the 1980s, six mentally disabled children and one older one went missing. Jennifer would be the only one found, partially visible in a shallow grave, in a place, strangely enough, already searched extensively, in the Staten Island Greenbelt woods surrounding the Willowbrook State School's abandoned and dilapidated buildings. Joshua Zeman and Barbara Brancaccio's investigative documentary, Cropsey, takes us into those discarded places of Willowbrook and the darkness radiating from them into a mystery, at the center of which lies a drifter, Andre Rand. Sometimes the Boogeyman is real.
Through old newspaper clippings, interviews, black and white photographs, and archival news footage, Zeman and Brancaccio begin with Jennifer's disappearance, which leads to Rand, a former orderly at Willowbrook, which leads to his eerie presence at locales where other mentally-disabled children have disappeared over the years.
In videotape of Rand being taken into custody he appears entranced and wild-eyed, like Charles Milles Manson, and drools as he stumbles along in handcuffs. In the hand-written letters he writes from jail to Zeman and Brancaccio, in response to their interview requests, he mentions how "evil sells," his legal concerns, and what's-in-it-for-him in-between the sentences where his thoughts drift into quotations from scripture. It's noted how his handwriting changes through the course of his correspondence. Rand's mother was committed to Pilgrim State Hospital, but the documentary does not delve deeper into Rand's past. It doesn't provide answers, so don't look for them. What it does provide is a sense of how urban legends like Cropsey (the slasher killer at camp, on the road, who lurks nearby) spring up in communities. This horror-veneer makes the documentary appear at first glance like a mockumentary. But as each disappearance is added, and Rand is shown, the reality sets in and you wind up wishing it weren't true.
Zeman and Brancaccio slowly move the camera through the abandoned, graffiti-sprayed buildings, interview the aged detectives, the still grieving families, the defense and prosecution lawyers, and the community without getting in the way of what anyone has to say or feel, then bring us back to the 1970s and 1980s by showing us the historical videos from Channel 7 and Staten Island's local news. There's Geraldo Rivera's investigation of Willowbrook, the shocking videos of neglect, filth, the warehousing of human beings no one else wanted; the trajedy seems to stem from those buildings and what took place there.
Slowly zooming into news articles from various New York and Staten Island newspapers hammers you even more with apparent connections between disappearences . A chilling synchronicity comes when 22-year old Hank Gafforio is seen standing in the background of a news video shot a few years before he went missing; the news video was about Holly Ann Hughes disappearance and its lack of clues. The documetary's morose pace, not cheered by the sombre, horror movie-style background music, lays out the details, the coincidences, the suppositions, and the guesses, but connecting them provides tantalizing questions and a template for creating an urban legend.
Did Rand work alone? If he did, how did Jennifer's body wind up in an area of ground already searched after he was encarcerated? From somebody trying to frame him? Is he guilty of the disappearences?  Is he guilty of murder? Did his time as an orderly at Willowbrook unhinge his sanity? Why did he live on the grounds and in the tunnels of Willowbrook State School after it closed? What do the rumors of devil worship and the Farm Colony have to do with the disappearences? Are they just more urban mythmaking by the community's bored teenagers.
Those teenagers show up on a walk-through at night, playfully looking for the boogeyman, leading to a lighter moment as Zeman and Brancaccio prowl around looking for the possible occult activity rumored to be happening in the area. Maybe the urban legends are there to warn us; to tell us some places must be avoided because the Boogeyman lives there. And he's real.