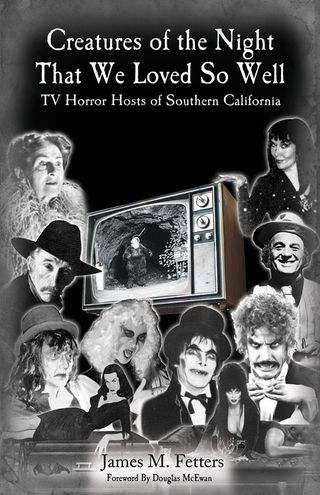 Zombos Says: Good
James M. Fetters' Creatures of the Night That We Loved So Well: TV Horror Hosts of Southern California is an important and entertaining book, which makes it all the more disappointing to wade through its poor text-formatting and lazy page layout.
When I received my "Perfect Paperback" $24.95 copy from Amazon, my heart sunk when I saw the misprinted cover cutting off the title; it was a foreshadowing of the poor publishing standards overhwelming this book's otherwise welcomed contents. I recommend you don't buy the paperback version as it appears to be a print-on-demand book with no proofing to accomodate fixed page lengths or any common print sense for that matter. The sloppiness includes quotes appearing ad nauseum in italics, double-spaced paragraph blocks, and Fetters' overused exclamation marks! Photographs, full script pages and show production sheets, and newspaper clip advertisements are either improperly sized, or reproduced so faintly they're hard to read, a shame because they provide a wealth of information for the diehard horror host fan. Captions are out of alignment with photographs, and interviews are not properly referenced and vaguely introduced with a they can explain it better than me  so here you go attitude, so I'm not sure how they were conducted or when.
Ignore all this amateurish presentation and you'll find worthwhile reading that, when paired with Elena M. Watson's Television Horror Movie Hosts: 68 Vampires, Mad Scientists and Other Denizens of the Late-Night Airwaves Examined and Interviewed, satisfyingly fills in the background for horror hosts Watson only briefly mentions. Fetter's meticulously provides show and channel information for each host, a superb timeline chart comparing national hosts to Southern California hosts, and he even lists what movies were shown, show by show; although the listing is unecessarily repeated in back of the book. More unnecessary page-filling is accomplished by providing capsule summaries for every Shock! and Son of Shock! movie, information easily found elsewhere.
What's really good here are the interviews, included scripts, and coverage for hosts like Ghoulita (Lietta Harvey) , Moona Lisa (Lisa Clark), Sinister Seymour (Larry Vincent), Grimsley (Robert Foster), and The Old Lady (Ottola Nesmith), who was sued by Mae Clark (Frankenstein) for wrongful impersonation. Grimsley takes you on a wild acid trip as he answers questions--I think those were answers, my head is still reeling--about his show, Moona Lisa's  own scripting ("Lisa wrote all of her scripts usually around 5 a.m.") is enlightening, and Sinister Seymour is vividly recollected by Douglas McEwan, who provides his complete, but unproduced, Octaman script for Sinister Seymour's Fright Night. While much of the reminiscenses are nostalgic, the ego-intrigue between Moona Lisa's appearance with Sinister Seymour (he was very ill with cancer at the time) at the Knott's Berry Farm Halloween Haunt provides a rare glimpse into the politics of hosting. 
The Famous Morris (Don Sherman) chapter provided a pleasant surprise for me. Back in the 1970s I was holed up in a motel room, flipping channels until I came across a horror movie. I was shocked (more like wow, this is neat, really, I was young) to see breasts bared. Now I know who's show it happened on, even if I don't remember the actual movie shown. This is one real "Urban Legend" I still remember. Famous Morris also explains how he became Andy the Bartender in the Rocky movies. 
Clarification in the lineage for Jeepers' Creepers Theatre (Jeepers, Ghoulita, Jeepers' Keeper, and The Creeper) cleared up the cobwebs for me regarding the hosting for this long running show. What's clear after reading Fetters' book is how much fun and work went into producing a horror host show, and how clearly American the phenomenon was and still is. We do love our schlocky horror hosts with our horror: they made the bad movies palatable and the good ones even better.