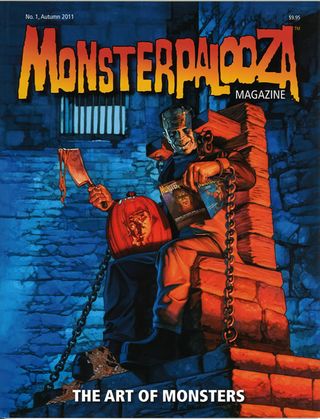 Zombos Says: Very Good
There's a smorgasbord of well-written articles to be found in this first issue of Monsterpalooza, although a little too varied to bring focus to the magazine's tagline "The Art of Monsters." The cheeky editorial doesn't help much either to provide a clear mission statement; it repeats Jack Torrance's dictum about dull work and no play, but doesn't give insight into why another horror magazine is vying for my torch-wielding enthusiasm and yours.
The coverage is both old and new movies and monsters, makeup, a fun little Halloween pop culture insert for this issue, a Vincentennial report, and interviews delivered in a snappy layout filled with photos and welcomed three-column text. David Gerrold's State of the Art (continuing column?) on summer movies is the usual harangue over movie quality for the massess, but it's well written and totally off target for that art of monsters thing. Maybe if he focused the article on specific summer horror/sci fi movies, I'd appreciate it more. 
The reading gem for me is Jeff Baham's The Happiest Haunt On Earth, which for Jeff, me, and many others I'm sure, would be Walt Disney's Haunted Mansion. Baham outlines the history, the influences--an early version called Bloodmere Manor was definitely not so happy--and explains how Walt's originally planned walk-through ride became the Doom Buggie journey we love today. A sidebar relates how some foolish mortals even go so far as to spread cremated remains of die-hard fans along the spooky hallways. But now that he mentions it....
However, one film that did have a lasting impact on the WED designers was the fictional house in Robert Wise's 1963 film 'The Haunting." In Wise's film, the house itself becomes a living, breathing character, which is an idea that resonated with the Imagineers. (Jeff Baham, The Happiest Haunt On Earth)
More treasures to plunder here are Dan Rhodes Dracula at 80, Pierre Fournier's Dare You See It, and Frank Dietz' Bob Burn's Burbank Spooktaculars. Rhodes basically repeats his argument from his lengthier article in Monsters From the Vault (volume 16, #29), but here he summarizes the critical importance of Dracula, a movie many older horror fans love to bash. If you like what he says here, I recommend you read his exhaustive analysis in MFTV.
For a more substantial read, Fournier delves deep in Dare You See It as he examines the research, and the newspaper clippings of the day, to track the evolution of Frankenstein as it bounced from actor to actor, director to director, and screenplay to screenplay. "Through spring and summer of '31, in a Thirties version of viral marketing, Universal's publicity department fed news items to gossip columnists, planting highly speculative and often contradictory articles, building interest." You can sense the feeling of anticipation and excitement potential audiences must have felt here, building up to the premier as the movie progresses from fancy to fact. 
On a lighter note, Dietz brings us personally closer to the out-of-this-Halloween spooktacular with The Thing From Another World, put on by Bob Burns in 2002 with a lot of help from his friends, all for a 4-minute live performance, repeated a heck of a lot for trick or treaters and diehard fans. It's amazing how concise and well-executed these events were, and this one in particular was written by Star Trek's D. C. Fontana, an "old friend of Bob and Kathy." 
There's more, like Ted Newsom's I Was Just Earning Me Wages, giving us a closer look at the career of Jimmy Sangster, and how he switched from producer to script writer with his first job, X the Unknown, and Mark Redfield's article Karloff and the Creation of the Screen Actors Guild. Given the wealth of talent in this issue, I hope the next one sustains it, and also defines more clearly the art of monsters, both present and past.
They're certainly off to a good start.