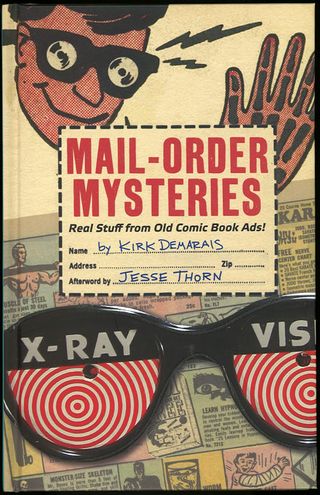 Zombos Says: Excellent
Kirk Demarais is crazy; as a kid he becomes so enamored with all those wild and wacky mail-order items hyped in the pages of comic books that he has to seek them out, years later, to satisfy his curiosity. Years after his parents told him they were junk or cheap crap or not really what the ads said they were and he'd be disappointed and dollar-foolish if he bought any one of them. But Kirk Demarais is a crazy adult, and he goes ahead and hunts those mail-order mysteries down just to scratch his itch. And damn if it isn't a satisfying scratch.
Mail-Order Mysteries: Real Stuff from Old Comic Book Ads! scratches my itch, too, especially because I bought a lot of these cool-looking-in-print mysteries, only to find out many of them weren't as advertised, and all those too good to be true descriptions were spot on: they were definitely TOO good to be true . 
Grouping stuff into chapters like Top Secret, Oddities, Better Living Through Mail-Order, War Zone, High Finance, Trickery, and House of Horrors, Demarais gives us the lowdown on how the ad copy and ambitious product illustration perked our young imaginations, then he reveals the real deal, describing what you actually did receive for your allowance money.
Luckily, not all of these potentially awesome goodies turned out to be bad: the spooky Greedy Fingers Bank, originally made in tin-litho, was a screamer as the skeleton arm reached out to grab a coin; those 6-foot, full-color, Monster Size Monsters posters of Dracula and Frankenstein were freaking frightful; and my favorite, Grow Live Monsters, which came with a space astronorium (illustrated backdrop and stand)  and two colorfully creepy alien monstrosities for a buck,  was the cardboard and grass seed equivalent of the Chia Pet.
From experience I can tell you a bad one could be very disappointing, though, especially after waiting weeks for its mail delivery, all the while dreaming of the endless possibilities once you held it in your hands. The 100pc Toy Soldier Set flattened my hopes when those awfully flat plastic soldiers and armament arrived in their flimsy cardboard footlocker; I never got to see how the Venus Fly Trap plant captured and ate its insect prey because mine never blossomed; and the Magic Art Reproducer didn't produce for me at all. I'm still not sure why I even bought that one. While the Secret Agent Spy Camera didn't work out for me (I couldn't find anyone to develop the mini film), at least it was still cool to show and-tell at school and it made me feel like James Bond.  So at least that one wasn't a total loss.
For those who remember the thrill and empowerment felt when ordering golden junk like this from comic books, then waiting on pins and needles for it to arrive, and then winding up feeling either giddily satisfied, somewhat satisfied, or completely duped, this book will bring back lots of great memories (and maybe some depressing ones, too). For those who don't know anything about this pop-culture staple of early marketing, it's a gold mine of how gullible and desperate our young imaginations were.
And how much fun, and magical, and unbounded, too.