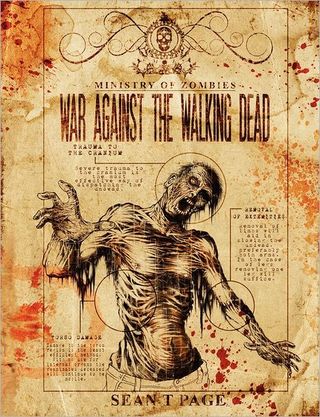 Zombos Says: Very Good
You and your fighters in the war against the walking dead need to be aware of these different stages of zombie—fresh, putrefied and desiccated. Know their capabilities and what helps to create or sustain them. Drier weather will lead to more desiccated zombies, humid more bloaters and a severe cold snap will arrest many ghouls at the 'fresh' phase, which can be particularly dangerous as your forces may mistake them for humans. Remember, no zombie can speak and their lumbering movements will always give them away but don't assume anything—be sure and be safe.
I don't quite get the fascination with zombies in meta-reality. All that shifting of supposition--the undead really, truly, exist or can or will exist--through dichotomous rationalizations from fiction to fact, and unreal to real, simply isn't my cup of tea. Then again, I don't get the zombie dress-up fad, either. Stumbling and drooling around on a weekend afternnon can be a drag. I rather keep my zombies on the page, in my head, and dead, dead, dead, as well as chomping at the bit every chance they get.
Sean T. Page prefers his zombies real and life-threatening. In his War Against the Walking Dead, he mixes pseudo-historical data with pseudo-science, adds tactical methodology and weaponry deployment (medieval to contemporary), and presumes the worst has happened: the world is overun, you're on the run (only pausing long enough to read his self-help guide), and the fight is on. Here and there you'll sense a bit of tongue in cheekiness, but it's not too firmly planted, so I'm not all that sure if Page is truly fully bonkers or simply winking-crackers nutty over zombies stepping into the real world.
The armoured bank truck—transport troops in safety (no pin number required)

Much more common than military vehicles, this adaptation works just as well with delivery trucks etc. It involves fitting out these vehicles as mobile command posts and troop carriers. So we are talking about seating, a small table, improved communications and crucially, the installation of a trapdoor at the bottom or on top of the vehicle for emergencies. Something to watch out for here is that some trucks have doors that open outwards, making it easy for a pile of ghouls to trap troops inside if the vehicle breaks down or becomes stuck.
Stick figure drawings and simple pencil sketches illustrate important points or factoids here and there, and numerous historical references are cited. For instance, in the chapter on static defenses against the walking dead, Page discusses the proper way to build a zombie-proof wall using The Francis Formula. Captain Francis, a French captain in Napoleon's Egyptian campaign, laid out a set of measurements for building anti-zombie fortifications that could withstand the destabilizing forces a zombie horde would exert on them. Particular note is made of the ghoul-step and how it can affect your height requirements, and of the horizontal pressures that will build up as more and more zombies claw their way forward. For defense sans fortifications, Page discusses the Roman Army's infantry tactic of the triple line battle order, and the infantry square variation.
Where personal armament is concerned, aside from the usual firearms recommendations (AK 47, Heckler & Koch G3), the more basic edged weapons are recommended, including the halberd (wonderful for fighting werewolves, too, I use one all the time) and the common heavy sword for cleaving heads in two. I'd recommend staying away from the two-handed varieity as those are too heavy and you'll tire quickly in combat slashing and thrashing with it, and double-edged works better than single--don't forget, you'll have zombies in back of you as well as in front. 
I'm surprised Page doesn't mention the mace as a suitable weapon. One with flanges or knobs to allow greater penetration of the cranium per blow would be aces in my bag of zombie survival gear. I also don't fully agree with the inclusion of the crossbow as it's arguably not more effective than a compound bow in certain respects . The weight of a crossbow is distributed unevenly, unlike a compound bow, making it hard to wield. While it's easier to learn how to shoot with one (Page notes it was termed the peasant's weapon because it was easy to master), arming one can be a vexingly fatal experience when confronted by a gang of anxious zombies. The compound bow is more supple and maneuverable in this respect.
Other weapons I'd recommend would be...Oh, crap, now he's got me doing it.
Zombies are not real, zombies are not real, zombies are not...