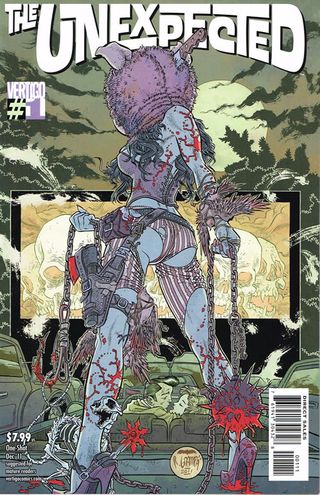 Zombos Says: Good
The problem I have with Vertigo's The Unexpected anthology of 9 stories is its cover: the illustration has nothing to do with any of them.
I'm not sure if it's the high-heeled pumps, the knife in the head (at least I think it's a head), or the bloody mace provocatively poised, but how can you not write a story about this? The cheeky titillation, the schizophrenic weirdness, and the outright sleeziness is nowhere to be found inside. Bummer. You'd think a better approach would have been to use this illustration as a springboard, to see what stories might percolate from it.
Double bummer.
The Great Karlini by Dave Gibbons leads off The Unexpected's stories--that have nothing to do with such an inspiring cover--but Gibbons ends his story in a familiar way, making it one of the weakest stories included here. G. Willow Wilson and Robbi Rodriguez's Dogs, and Alex Grecian and Jill Thompson's Look Alive pick up the pace by merging their visual styles to the familiarity-skewing plots involving a lot of fed up man's best friends, and a feed-in-need zombie's creativity in finding her next meal ticket.
The Land by Josh Dysart and Farel Dalrymple is quietly compelling. It's tilt toward more narration, less dialog, and it's picture-book style of illustration create a mood that unfolds the story unemotionally, but it's undertone is meaningfully familiar about ancient monsters and prejudice.
I don't get the point of A Most Delicate Monster by Jeffrey Rotter and Lelio Bonaccorso, and Brian Wood and Emily Carroll's Americana left me bewildered. Neanderthals created from fossil DNA cause cultural consternation in Monster. A scientist takes a sizable brute to a water theme park to prove his point that Neanderthals and more recent humans shouldn't mix, but mixed results lead to a quick termination of the experiment. It's funny to a point, but whatever that point is, I can't say. Ditto with Americana, which also reads the most indie-prone of the bunch in story and art.
Family First from Matt Johnson and David Lapham provides an unexpected twist ending and sufficient gore that comes closest to the cover's potential. A brother and sister do indeed put their family first when an apocalypse presents those annoying live or die hunter and gatherer challenges we're all familiar with. They also keep the BBQ smokin' hot for guests. I don't quite know why, but I felt this story could have gruesome-twosome series potential.
The last story, Blink...Le Prelude a La Mort is more confusing than entertaining. This prelude from Selwyn Hinds and Denys Cowan brings us into the middle of an ongoing story continued in Voodoo Child No. 1. Promotional gimmicks like this waste precious space in comics; space I'd rather see filled with stories pertinent to the issue at hand.
A courtesy copy for this review was provided by DC Comics.