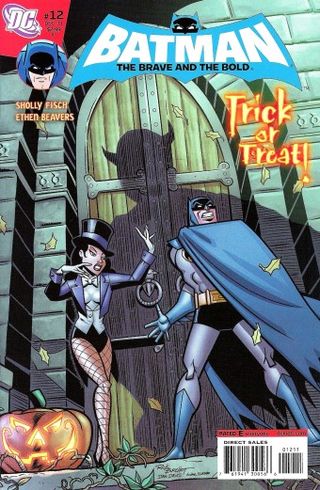 Zombos Says: Very Good (for young readers)
Everything has rules, Batman. Even Halloween. -- Zatanna
In Trick or Treat, Batman and Zatanna investigate a break-in at the House of Mystery on Halloween night. With only a few rolls of toilet tissue left behind, and Abel turned into deadwood, they don't have much to go on. Cain isn't much help, either, since the house's comings and goings make it impossible to determine if anything is missing. 
In this tale for the younger reader, the mystery is who would dare treat Cain and Abel this way, and what nefarious purpose is behind it? Sholly Fisch and Ethen Beavers keep the colorful action simple and fast-moving toward the solution as Zatanna resorts to magic and Batman resorts to more practical methods of investigation, with both approaches necessary.
After a couple of dead ends involving Dr. Destiny putting the moves on Zatanna, and Mr. Mxyzptlk tying the strings on both of them, the investigation forces a resolution involving a lot of good and bad supers squaring off to reveal the true villain. 
My only regret is the cover price: I wish it were a lot cheaper. I'd have loved to give this to the many trick or treaters coming to my own house of mystery on Halloween. Now, if only I could get Zatanna to show up, too.