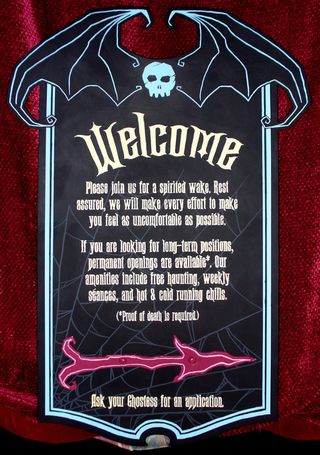 Five questions asked over a glowing Jack o'Lantern, under an Autumn moon obscured by passing clouds...in between mouthfuls of candy corn...with Trader Sam of The Disney Experience...
Why is Halloween important to you?
It's so different from the hum-drum life that we all lead throughout the rest of the year. I mean, you do the same things day-to-day, week-to-week. But, Halloween. Oh, Halloween! It's the one month where we can step away for a while and do things we normally wouldn't do. Wear things we normally wouldn't wear. Act in ways we normally wouldn't act. We need that, I think. I need that.
I typically get the Halloween bug around July, and it grows as October nears. When I can afford it, I dress up the front walkway and scare trick-or-treaters. The neighborhood kids really enjoy it, and they talk about it for weeks. It's fun, but a lot of work for just one night. Sometimes, I like to take the year off to be the scare-ee rather than the scare-er.
Now for some shameless plugs, but only because they show how far Halloween I like to spread the holiday cheer . . .
If you're a Disney fan, a Google search will eventually take you to a website called The Disney Experience, which I own and run. Every year (right now, in fact), I transform it into The Haunted Experience, with some sort of spooky overlay. It's a fun annual re-design, and I always design something special to be released on Halloween. I look forward to it, and one year I took it a step further.
I decided to take my love of Disney, Halloween, and trick-or-treating and combine them into an online trick-or-treating website called Doorless Chambers (www.doorlesschambers.com). Web guests would go from site to site, downloading original digital goodies from Disney fan sites. Sadly, it only lasted for a couple of years. It was a mess to maintain and organize, and the funding just wasn't there. I've been thinking of bringing it back one of these years now that I think I have the kinks worked out.
Lastly, I am a papercraft designer, and I've been creating Halloween papercrafts for the past 2-3 years. I sell them online from my portfolio website (www.navadesigns.net), and I've recently made the decision to sell them year-round. They're small punch-out paper toys that only require a little bit of glue. They make great gifts for kids or can be given out at Halloween parties. They're just one more way of spreading the Halloween fun!
Describe your ideal Halloween.
My ideal Halloween? I don't have one. I have several. Here's a list:
Free reign of the Haunted Mansion at Disneyland. No cast members, technicians, or maintenance people except for those needed behind-the-scenes to make sure that the attraction runs smoothly all night long.
Having the funds to design, create, and build an interactive haunted house on my front lawn. Something with a lot of hallways that can secretly swivel and/or slide around when guests are not looking, creating a maze of confusion and panic. Wicked fun!
Having unlimited funds to create an entire haunted town out of my entire street. Something like a block party where the public could trick-or-treat, too.
Taking my nephews to Mickey's Halloween Party at Disneyland.
Creating a life-size robotic T-rex that I could climb into and "drive" through the neighborhood, scaring kids.
I lie awake at night thinking of things like this.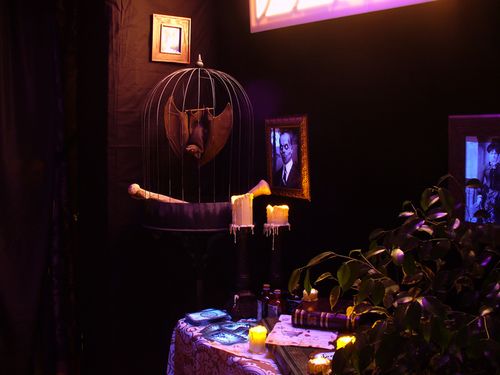 What Halloween collectibles do you cherish, or hate, or both?
I'm a Disney fan at heart. I always have been. So, it's no surprise that I'm a Haunted Mansion (all incarnations) fan. I even own a copy of the Haunted Mansion movie just to see the references to the attraction. How geeky is that?
After Walt Disney died, there was a debate between the Disney Imagineers about whether the Haunted Mansion should be scary or humorous. In the end, the two were combined to create, I think, the perfect combination between scary (more spooky than scary, really) and funny. Nothing really terrorizes you, but it leaves some room for your imagination which can REALLY terrorize you. There's nothing quite like scaring yourself.
I am also a fan of Tim Burton's The Nightmare Before Christmas (surprise, surprise). I think I own three different copies of the album. In fact, I'm listening to Nightmare Revisited as I type this. Yeah, another geeky moment for me.
I love old things. Books, antiques, cobwebs, run-down turn-of-the-century houses . . . anything with a link to the macabre, really.
I'm not a big fan of the cutsie/kiddy Halloween themes. Jack-o-lanterns, witches, black cats, ghosts, and the like just are not meant to look cute. The exception to this rule is vintage Halloween ephemera. Those had a way of being kid-friendly without looking childish. And, the art design is just freakin' cool (do a Google search for "vintage Halloween")!
Alright . . . one thing that I absolutely loathe about Halloween is the needless use of blood and gore. Halloween is supposed to be scary. Blood and gore is just gross. I want to be spooked, not made nauseous. That's a problem with modern "horror" movies nowadays (for me, at least). That's not to say there are not appropriate times to use blood and gore. Use it wisely.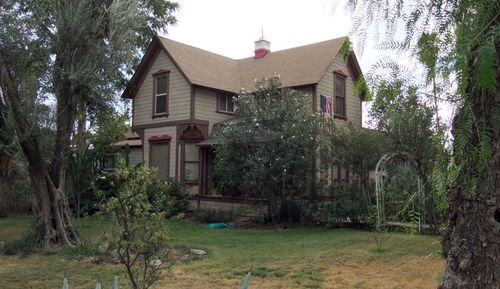 When was your very first Halloween, the one where you really knew it was Halloween, and how was it?
My dad once worked with a police officer in my home town. The officer's last name was 'Scorpino'. It's a cool-sounding name, kind of like 'scorpion'. It's an appropriately spooky name in fact. He lived in an old 2-3 story Victorian-inspired house. On any night of the year, it looked like your stereotypical haunted house. On Halloween week, it actually became a haunted house.
This man and his family used Hollywood-quality props and special effects inside and out! I never went inside as a kid (was there an age limit?), but I hear that he had tours through various haunted rooms that were supposed to be very scary. The garage was set up as a mini walkthrough for the younger crowd.
My best memory of that house was the front porch. From the outside, it looked like any other porch with a clear overview of the cemetery (the lawn). But, when you walked up the steps and looked out, it appeared to be raining. Honest-to-goodness rain! I'm still trying to figure out how he did that one.
Scorpino's house was my first true taste of Halloween.
What's the one Halloween question you want to be asked and what's your answer?
Q: Do you ever tire of it?
A: No, not really. I get tired of some things, but I always try to change it up in some way to keep it fresh. For example, I've been meddling with a twist on an existing special effect for my porch dress-up.
A couple of years ago, I came up with this effect where trick-or-treaters (TOTs) would enter a room with black walls and ceiling. The room was decorated with candles, portraits, and other wall fixtures. With the help of a black light, it looks like a black room. But, one wall is really a black void. That's where I lurk, dressed in black with glowing red eyes. I can jump out almost anywhere, and it freaks people out when the eyes float in or out of the "wall."
I'm working on a new twist on that theme where TOTs would enter a black room with a door. Thinking that they're supposed to go through the door, they'd eventually discover that they have to go through what they originally thought was a wall. I see some potential for pranks here.
I'm getting geeky again.