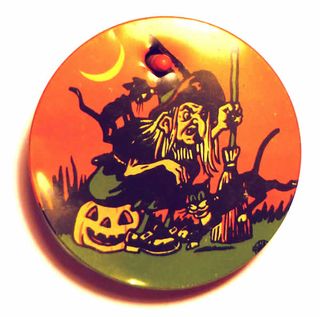 Five questions asked over a glowing Jack o'Lantern, under an Autumn moon obscured by passing clouds...in between mouthfuls of candy corn...with author Lisa Morton...
Why is Halloween important to you?
Wow, I could write an entire book to answer that...oh, wait - I've written three already! Okay, seriously...Halloween is just such a rich holiday that operates on so many levels. As a kid, I loved the empowerment of wearing a costume and being paid off in candy (and the better the costume, the more candy!).
As an adult, I love the creativity, the seasonal aspect as we change from summer to winter, and the celebration of fear but done in a whimsical way. I think it's healthy to have one night a year where we, collectively, impersonate, mock, and honor death.
Describe your ideal Halloween.
I love seeing what people do to transform both themselves and their surroundings on Halloween. Every year I drive to locations where I've heard there are spectacular home displays (those are also usually where you get the best trick or treat costumes). I love the seasonal foods, so I have to eat a pumpkin stew and pumpkin seeds and even Halloween cookies from a local bakery. I'll probably wrap up the night by tuning in whatever horror movie or special is on television - the older the better!I'm ashamed to say I've never been to our local West Hollywood celebration, but I'm not a huge fan of crowds or traffic.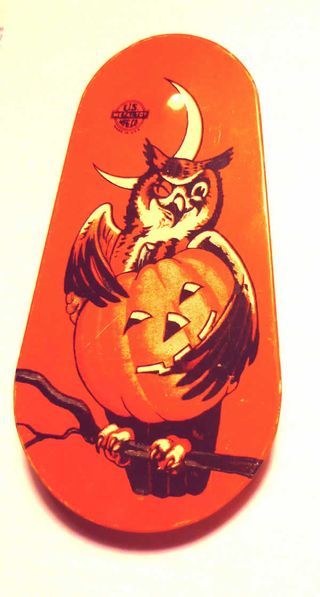 What Halloween collectibles do you cherish, or hate, or both?
Oh boy, I've got a lot I love. As the author of three illustrated Halloween books, it's been (ahem) convenient to collect a lot of stuff that I could use as illustrations in the books, everything from vintage postcards to antique books to modern folk art and toys. But I think I have a special fondness for vintage noisemakers.
One of my favorite pieces of Halloween non-fiction writing is an essay by Carl B. Holmberg called "Things That Go Snap-Rattle-Clang-Toot-Crank in the Night: Halloween Noisemakers" (from the book HALLOWEEN AND OTHER FESTIVALS OF DEATH AND LIFE), and that essay really got me started on noisemakers. Strangely enough, I never used noisemakers as a kid (apparently they never really made it to the west coast), but I just love their colorful graphics and the idea of kids making scads of noise with these things on Halloween night. I've attached photos of two that are probably my favorites: You can't beat that image of the witch with her cats, and the winking owl with the jack-o'-lantern just somehow always make me smile.
When was your very first Halloween, the one where you really knew it was Halloween, and how was it?
The first one I really remember was probably when I was in first grade (I think I was seven), and my favorite show was this ridiculous thing called IT'S ABOUT TIME with cavemen, so I wanted to be a cavewoman. My dad's a hunter (and still is, at 83!), so he made me this costume from an honest-to-God deer hide, and my mom ratted out my hair, and it was all very authentic. The only bummer part was that I was too small to lift a real wooden club, so I had a plastic club. I remember parading proudly in the school costume pageant around the playground, and being really proud of that costume.
What's the one Halloween question you want to be asked and what's your answer?
Q: Lisa, if you could travel back in time to witness Halloween in the past, when/where would you go to?
A: Well, Lisa, that's a tough one...but I think I'd have to say that I would love to take part in an 18th-century Scottish party, such as Robert Burns describes in his poem "Hallowe'en". The night was one full of magic and romance and a little bit of spookiness, and it's no wonder the Scots loved the holiday so much.