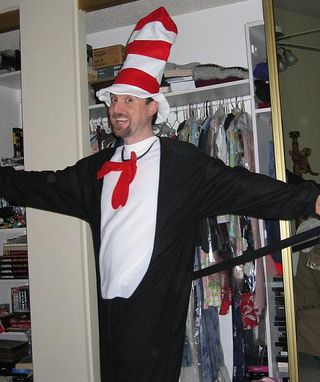 Five questions asked over a glowing Jack o'Lantern, under an Autumn moon obscured by passing clouds...in between mouthfuls of candy corn...with El Bicho...
Why is Halloween important to you?
Halloween is an important tradition because at its core it is a celebration of imagination and creativity, attributes that currently don't seem to be valued and promoted as much as they should, in both children and adults. Halloween makes for a wonderful amalgamation of sights and sounds as people express themselves through costumes and decorations in silly, spooky, and sexy ways they may not otherwise the rest of the year.
Describe your ideal Halloween.
My ideal Halloween takes place on the last Saturday of the month when the holiday should be officially celebrated since "school night" Halloweens are usually limited in activity. Just after sundown, my wife and I hand out candy to costumed kids as they make their way through the neighborhood with their parents. After a couple of hours, we head off to a costume party with friends for either a night of games or maybe a movie or two. If any of the gang doesn't have a good reason for not making it, we head over to play a trick of some kind at their house.  The night ends reading a scary story in bed.
What Halloween collectibles do you cherish, or hate, or both?
My most cherished Halloween collectibles are movies. "Abbott & Costello Meet Frankenstein" being at the top of the list. I don't hate any.
When was your very first Halloween, the one where you really knew it was Halloween, and how was it?
While I am sure as a young child I was dressed up in different get-ups, like the plastic costumes that came with a mask held onto your face by a rubber band, my earliest memory of dressing up for Halloween was either first or second grade using my mom's clothes and make-up and a wig from somewhere to be made into a woman. I got candy in the neighborhood so it was great for a kid.
What's the one Halloween question you want to be asked and what's your answer?

Q: Would you like to come to my Halloween party?
A: Yes