Five questions asked over a glowing Jack o'Lantern, under an Autumn moon obscured by passing clouds...in between mouthfuls of candy corn...with Edward Douglas of Midnight Syndicate...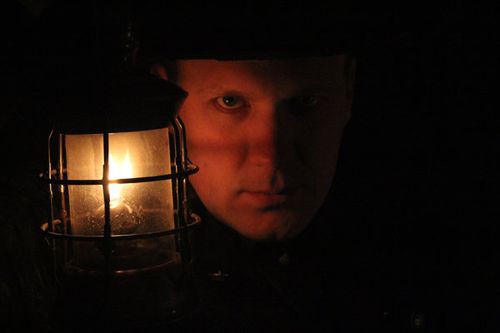 Why is Halloween important to you?
It's the one time of the year when everyone feels free to explore their fascination with things that go bump in the night. Imaginations run wild and that's a great thing. Even though many decorations are quite cheesy it's wonderful to be surrounded by the imagery and themes I like to surround myself with year-round. It's also an opportunity to spend time with family, friends, and neighbors. I have kids, so to be able to pass down the traditions and watch them experience the things that made Halloween special for me is very cool. I get a kick out of watching them use their imaginations and get excited over their "haul."
Over the years Midnight Syndicate's music has worked itself into the holiday so it's also an important time of the year for us as a band – an exciting one as well as it's the one time of the year when we're likely to hear our music in public places (haunted houses, stores, radio). That's always great.
Describe your ideal Halloween.
My ideal Halloween would be: Do a big setup in our yard, take the kids trick-or-treating in our neighborhood and then to the neighborhood I grew up in, head up to Chardon Square for cider and donuts, hit a haunted house, then have friends and family over for fresh-roasted pumpkin seeds, German Oktoberfest beer, and Thirsty Dog Pumpkin Ale.
What Halloween collectibles do you cherish, or hate, or both?
I wouldn't say they're collectibles but the decorations from my early childhood are things I hold on to. Every year I'd get out the paper skeletons you can pose, the glow-in-the-dark ghosts, and a big poseable paper scarecrow. Nothing terribly fancy but it signaled the beginning of the Halloween season and that was always exciting as a kid. I don't hate any collectibles because everyone has their own way of celebrating the season. If folks have them or have them up on display then they probably have some sort of connection with them.   I've recently come across Halloween postcards from early 20th-century. I'm thinking of starting a collection of those.
When was your very first Halloween, the one where you really knew it was Halloween, and how was it?
I think I was a pumpkin or a clown and most of my memories from that are through photos although I do remember my cousins coming by for trick-or-treating. I definitely remember my first time going through a haunted house. I was pretty young. It was set up in a building on our townsquare and run by the library or the Jaycees. The haunt was really small but I still remember the creeper guy on the floor hidden under a pile of leaves, Frankenstein's laboratory in strobe lights, and then, the ultimate climax for a haunted house....? an "ultra terrifying" light sabre battle between Darth Vader and Luke Skywalker from the new hit movie "Star Wars." I thought it was so cool!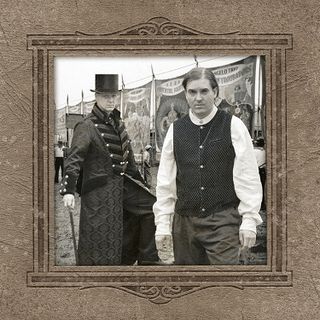 What's the one Halloween question you want to be asked, and what's your answer?
Q: Why is Halloween important?
A: I feel it's not only healthy but a good release for folks to have at least one night where they can be a kid again and have the opportunity to pass down traditions (or make their own) to their family or friends.   There's no pressure – no gifts, no decorations (unless you want to), and no mandatory parties (again unless you want to). It's all JUST about having fun and letting your imagination run wild. I think we need that especially during these challenging times. I'd like to think that too, in a way, the holiday also helps build communities a bit. Whether it's that house on the corner with the killer decorations that you go to every year, waving to your neighbors while trick-or-treating, I just think it's a great, great holiday.