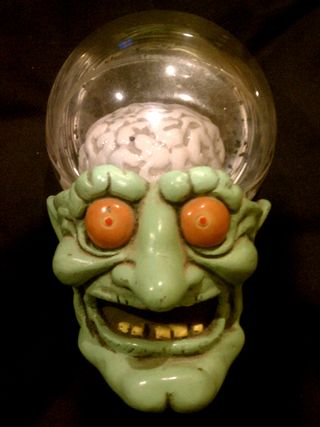 Five questions asked over a glowing Jack o'Lantern, under an Autumn moon obscured by passing clouds...in between mouthfuls of candy corn...with Scott Cole of 13 Visions...
Why is Halloween important to you?
It's the one time of year it's not generally considered weird to like ghoulish things, the one time a year pretty much everyone not only accepts, but celebrates, the things we horrorhounds love all year round.
Describe your ideal Halloween.
I really try to stretch the holiday out to the entire month of October, but if I'm limited to a one-day celebration, I suppose my "classic" ideal Halloween would include some horror films, a late afternoon walk with a cool Fall breeze at my back, dinner with assorted monsters, a trip to a haunted house, some pumpkin carving, trick or treaters, and of course, plenty of candy.
I've certainly had my share of fun ones. In recent years, my wife & I have thrown some big parties, where the entire house is creepily decorated (more so than usual), with severed body parts, glowing skeletons, floating bats, and horror movie trailers projected on the walls.
Other years have found me applying zombie makeup to Thriller dancers, vacationing in Salem, Massachusetts, and stuck to an uncomfortable chair at a 24-hour horror movie marathon.
What Halloween collectibles do you cherish, or hate, or both?
My home is filled with all sorts of scary stuff - most of it is horror-related in a general way, but some is specific to Halloween.
I have a lot of skulls. I mean, A LOT of skulls. But I guess one of my favorite things is a Halloween snowglobe I've had for years. It's the head of a green goblin-monster-thing, with big bulging orange eyes. The top and back of his head forms the snowglobe, with his brain exposed inside the clear dome. Instead of snow, it's filled with tiny plastic bats and other bits of detritus.
When was your very first Halloween, the one where you really knew it was Halloween, and how was it?
My mom tells me I was dressed as a pumpkin for my first trick-or-treat excursion, but I was maybe 2 or 3, and don't remember it. I do remember dressing up as a vampire, a devil, a ghost, a black cat, and various monsters through the years - always something scary, of course - but I honestly don't remember which one came first.
Halloween was never not fun. As a kid, it was the big after-dark, outdoor costume party I looked forward to all year long. Now, it's kind of a way of life.
What's the one Halloween question you want to be asked and what's your answer?
Q: Any horror movie recommendations for the big night?
A: You simply can't go wrong with Halloween itself. Or any of the Universal classics from the '30s or '40s. A good anthology feels right for Halloween too - I'd say go with Creepshow, or the recent Trick 'r Treat.