Five questions asked over a glowing Jack o'Lantern, under an Autumn moon obscured by passing clouds...in between mouthfuls of candy corn...with Joe Moe...so you know...
Why is Halloween important to you?
Like our favorite Horror movies themselves, Halloween represents such a high degree of art, craft, and creativity. It's so theatrical, clever, and creepy. A great way for parents to encourage imagination and share their limited (or vast) knowledge of tradition, stagecraft and spooky mythology with their family. If all else fails, it's a nationally sanctioned day for kids to piss off uptight parents!
Halloween is also transformative. As a kid, you could be whoever you wanted for that one magical night. Or, at the very least, not be your regular self for a spell. All of this contributed to my aspiration to tell spooky stories as an adult. While I haven't accomplished all I have left to do yet, I have made movies, designed haunted rides for theme parks internationally, and lived with and took care of one of the pioneers of our genre, the late great Forrest J Ackerman. Thanks, Halloween! Pretty good trip so far!
Describe your ideal Halloween.
One that goes on for the entire month of October. It starts with planning the big, themed Halloween party for the actual day. This year it's Vampire Spaghetti Dinner with my fanatic Halloween pal, actress Carol Ann Susi (from the original Night Stalker series and now Mrs. Wolowitz on The Big Bang Theory). But long before the 31st, there's exploring Disneyland's family-friendly Halloweenification, Knott's Scary Farm's infamous, immersive, month-long Halloween Haunt. Universal Studio's Halloween Horror Nights is hit or miss, but I personally never miss it! There's even the fun of scoping out the mainstream department stores to see what innovations, decorations and novelties are offered this season. And no Halloween can go by without a visit to Del And Sue at Dark Delicacies in Burbank. Oddly, nowadays, I hardly ever wear a costume as part of my Halloween celebration?!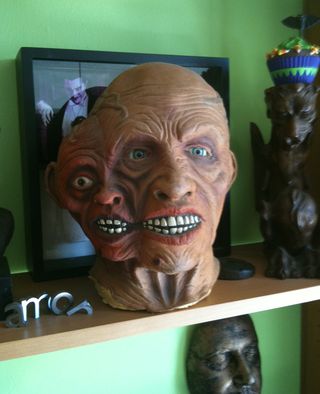 What Halloween collectibles do you cherish, or hate, or both?
I worship any Don Post Studios mask. Back in the 70s, having one of those deluxe, over-your-head treasures was like owning an actual piece of classic horror history. There was no better way to become your favorite monster than to squirm into one of those remarkable, detailed latex masks. I don't own any myself today, but I do have a copy of the mask I actually sculpted for Don Post Studios in the 80s (Schizoid, at left). I can't express what an incredible dream come true it was for this (then) 22-year-old kid from Hawaii to contribute a monster mask to the company that so affected my childhood dreams and ambitions. Seeing my mask on shelves at the Hollywood costume shops and theme parks was beyond exciting.
When was your very first Halloween, the one where you really knew it was Halloween, and how was it?
I was nine when Halloween coalesced into understanding of the tradition and fun of the holiday. It was the year my parents finally allowed me to read Famous Monsters of Filmland magazine. Now I could put all the creatures and movies I was drawn to into the context of the genre. I also got my first store-bought costume, Frankenstein's monster! It was one of those boxed costumes. A flimsy printed, shiny jumpsuit, tied in back like a hospital gown. And the vacu-formed mask printed with garish colors that smelled like plastic (and later, spit). I wore that costume days before Halloween. I shredded it. I won my first Halloween contest that year. Today I realize that I won, not because of my lousy commercial costume, but because I stood next to a kid in an identical costume and the judges thought we were cute twins. Luckily, I was handed the prize and not that other kid.
What's the one Halloween question you want to be asked and what's your answer?
Joe, will you please attend my:
a) Halloween Party
b) Haunted House
c) Seance
d) Homemade graveyard
e) Spooky movie screening
f) All of the above
My answer is...YES!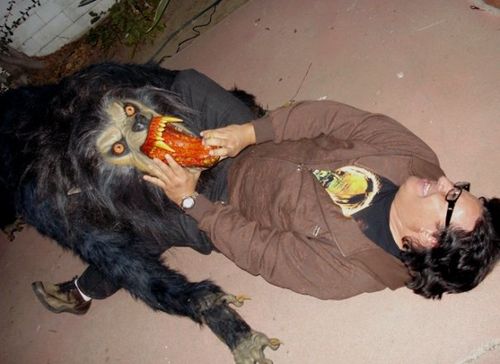 Joe and Werewolf under a full moon. (Joe's on the right)