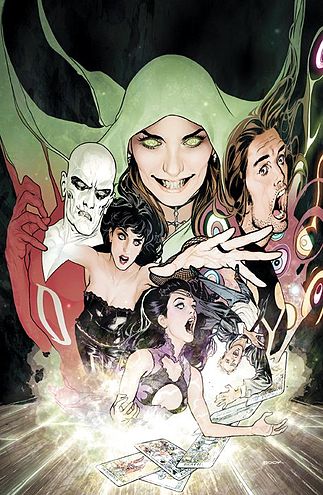 Zombos Says: Good
(story good, but artwork lacking)
Since Zatanna is wearing pants they put her fishnet stockings on her arms, overly done coloration brightens to distraction, and another apocalyptic vision gets everyone in a huff. And don't get me started on using Justice League in the title: it's somewhat confusing, but since Superman, Wonder Woman, and Cyborg aren't up to the task at hand, I suppose it will have to do for now.
Even John Constantine winds up here as Madame Xanadu sees a bleak future and calls Shade (actually she calls his M-Vest). Enchantress is dreaming madness and chaotic spells ensue. This first issue sets up the looming hunka-burnin' catastrophe with mini-ones, and introduces key participants including Deadman, Constantine, Zatanna, Shade, and a mysteriously confused young girl.
Getting in their way is the artwork, with color that saturates the opening action in a golden haze, and the closing setup in purple. Mikel Janin draws everyone with almost the same face, and poses characters stiffly in his scenes. One welcome exception is Constantine dropping in unexpectedly. Another is the encounter with filthy flying teeth (now try and say that 3 times fast), which is rendered less effective by a putting-green background.
Peter Milligan's story builds well to the quiet climax, adding mystery and pending threat, but Janin's layout, while grid-wise assists the narrative, content-wise needs more oomph and fluidity to bring on the darkness.
And for gosh sakes, dull those colors!