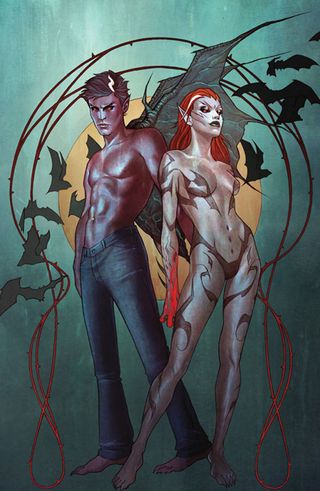 Zombos Says: Very Good
I wouldn't have picked this one up if DC hadn't sent it to me for review. I have a problem with the cover. It sucks. Okay. I know. You want more of a critical assessment than a fanboy kind of knee-jerk opinion. Here it is then: it sucks a lot. It's too yapping Twilight-y, and its composition panders more to stereotypical male herdy-nerdy readers with its voluptuous, booby and elf-y coy female posturing brazenly. I don't know what age range they thought they were aiming for with this one, but I'm not near it apparently. And it doesn't jive with the more sophisticated content, which I can tell you doesn't suck. 
Andrea Sorrentino's heavily dark boundaries and shadow-fused illustration would easily be at home in a black and white world, but Marcelo Maiolo's color dashes and toning brings emotional depth as well as objective and personal perspective through its variation across the pages.
This first issue re-establishes the centuries-old love-hate relationship between Mary and Andrew: she's intent on feasting and he's more of the fasting kind. Joshua Hale Fialkov interweaves their lovers' dialog between present and past, and in spite of his 400 years of vampire-killing savvy, she gets in the last word. Much bloody mayhem ensues
If Fialkov and Sorrentino can sustain the emotional intensity and visual flare started in this first issue, the series should have a long run. Their predominant use of wide-format panels gives ample room for telling the story with imagery and narrative, and red dialog boxes and discrete splashes of blood punctuate the lovers' quarrel, broadening it to apocalyptic proportions.
At 20 pages an issue, it's a tough call whether I want to wait for the trade paper or pick up each issue. I'm tempted toward the latter based on the promise shown here.
Is it me or is everything so apolcalyptic these days?