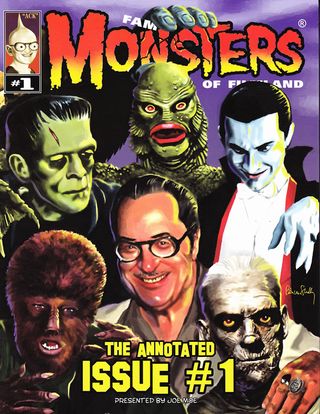 Zombos Says: Very Good
Having acquired a distributor, Warren phoned me. "I know you're quite serious about your films," he said, so I'm going to tell you something and then I'm going to hold the phone a yard away from my ear because I'm sure I'll hear you scream all the way to New York." You, Forrest J-no-period Ackerman, are about to become editor of -- are you ready for this? -- FAMOUS MONSTERS OF FILMLAND!"
"Oh, no! [groaned Forry Ackerman] Do I have to put my name on it!"
In Famous Monsters of Filmland: The Annotated Issue # 1, Joe Moe opens the vault to bring Forry's original hand-typed and pencil-edited manuscript for the first issue of FM to light, and Kevin Burns and Dennis Billows remember the sci fi man who crash landed on Planet Horror with a shock wave still reverberating today.
I took the above quote from Forry's Birth of a Notion, wherein he describes how FM evolved from an initial idea of doing a oneshot magazine based on the French Cinema 57 issue devoted to classic monsters, then to the idea of doing a oneshot called Wonderama (The Mag of a Thousand Faces), comprised of movie stills from Forry's vast collection, and eventually to fate stepping in with lucky timing. Teenage horror movies were becoming hot and the magazine distributors Warren failed to impress at first with "his mad idea" suddenly remembered him: now they craved the monsters. And soon thousands of kids would crave them, too.
Burns follows with an affectionate recollection of meeting Forry for the first time, Following Forry, and Billows, "one of Forry's most valued assistants" provides glimpses into the mettle of the man with a selection of Ackermanisms culled from tape and written interviews on why Forry collected, his first movie,  his friendship with Fritz Lang, and Forry's touching recollection of Boris Karloff.
A room by room photo tour of the treasures in the Ackerminimansion, Forry's last residence and smaller repository for wonders and terrors, rounds out these prefatory articles, leading into the hand-written outline for the issue's contents and the old-fashioned typed pages, with penciled edits here and there, revealing Forry's creative process in bringing the first issue of FM to the newstands. Earlier in Birth of a Notion, Forry mentions how Warren would hold a card in front of him as he typed. Written on the card  were the words "I'm 11 and 1/2 Years Old, and I am your reader. Forry Ackerman, Make me laugh."
It worked.