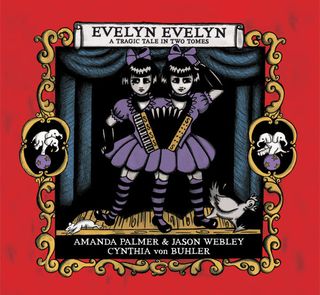 Zombos Says: Excellent
Call it a glum child adult's fairytale or a morose adult child's fairytale, Evelyn Evelyn: A Tragic Tale in Two Tomes from Dark Horse is quite intoxicatingly real in it's grotesque fiction. It is darkened parquetry, laid across the pages of two small tomes bordered by slipcase, revealing the piquant story of the conjoined Neville sister twins' never existence, from birth to YouTube stardom, embellished with gross exploitation, tearful misfortune, and their eventual, but tenuous, music salvation.
The tartly sweet baroque illustrations by Cynthia von Buhler are all coffin frills and funeral lace and purple ribbons heavily blushed by somber Autumn colors and impossibly tragical events. This is the bedtime story Wednesday Addams would want to fall asleep to, people'd to absurdity, dusted lightly with caked talcum and caressed softly by razor sharp tinsel.  
Their caretakers, Amanda Palmer and Jason Webley, musically gifted in their own right, have preserved the fragile confidence of the twins enough to bring their melancholic artfulness to light, as well as their bittersweet, decidedly corkscrew journey that starts with a detrimental birth in a medically-modified Airstream trailer,  necessary salvation from a chainsaw-wielding doctor of dubious reputation and errant skills, unnecessary loss to a chicken farmer who coops them like his chickens, and questionable rescue by candy-wielding saviors who bring them to live at a shady home for wayward girls, where VHS tapes and debauchery mix and 13 year-olds mysteriously leave for parts unknown, late at night.
Elephant Elephant, the two-headed elephant, their only friend in the circus where they must perform, provides surcease of misfortune until misfortune insists, but the inseparable and resourceful sisters use the wonder of technology and the closeness of the  Internet to garner notoriety with their ukulele and fragile gumption; sure in the knowledge that, no matter what travails they face, through thick or thin they will never split up and go their separate ways.
Endearing, frightening, and perplexing, in Evelyn Evelyn, the truth is stranger than reality, and far more cheeky.