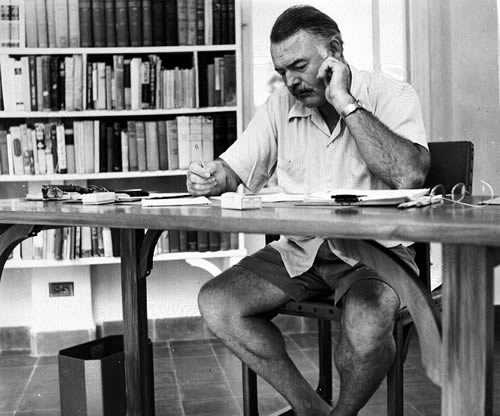 Okay, I get it. If I write one page a day, in a year I'll have a novel. My problem is I have no idea what to write about.
You're sitting on a mother lode of ideas. You just haven't mined them yet.

A good story, no matter what the genre, is about conflict. It's about developing your main character(s) so that the reader likes (and hopefully can relate) to them, and then placing obstacles in the way of obtaining their goals. The story is not so much about the challenges as it is how the main character(s) confront these challenges by overcoming their weaknesses and expanding on their strengths. The story is not about the conclusion. It's about the journey to that concluding page, and what the main character(s) learn about themselves on the way.
Think of how boring The Lord of the Rings would have been if Bilbo had decided to keep the ring for himself rather than give it to Frodo to return to Mount Doom. Or if Ralphie's mother had acquiesced in the opening scene of A Christmas Story and agreed to buy him an official Red Ryder carbine action 200-shot air model range rifle. Or if Shelby from Steel Magnolias did not have a medical condition that endangered her life during pregnancy.
Such stories come from within us. There's no one reading this blog who hasn't experienced some type of conflict, whether it's as simple as a troubled romance, as life altering as death or illness or surviving combat, as traumatic as disloyalty or loss of honor, or as frustrating (or comical, depending on the situation) as a dysfunctional family. Tap into those emotions and build your story around them. Will it be painful or uncomfortable to bear your soul like this? Probably. But if you can be honest to your emotions and successfully weave them into your novel, you'll relate to your readers. That's what writing is all about. So if I may use an old clichéd phrase, write what you know.
Write what you know? You write about zombies and vampires. What do you know about them?
Good question. I asked the same thing years ago of Brian Keene, author of The Rising, the novel that launched a new wave of zombie apocalypse stories. The Rising is about Jim Thurmond who lives on the West Coast. As civilization crashes around him, Jim gets a phone call from his young son on the East Coast asking his father to come rescue him; he sets out on foot across a zombie-infested country in a desperate journey to save his son. Prior to writing the novel, Brian had received a phone call from his ten-year-old son whom he had not seen since infancy and who wanted to meet. He made the trip, all the while wondering what their meeting would be like. Brian later wrote about that emotional turmoil in The Rising, and then added some zombies.
Brian's advice helped me to find my focus for The Vampire Hunters. At its essence, the story is about the war on terror and how those fighting it deal with the reality that for every terrorist brought down, ten others take his place. My main characters embody the three primary outlooks of any long-term struggle: Drake Matthews, the gung-ho commander who's in the fight for the long haul no matter how long it takes; Alison Monroe, who follows Drake willingly but who, at some point, wants to put down her weapons lead a normal life; and Jim DelMarco, the young kid drafted into the conflict who does not want to be there, but who fights anyway. The trilogy deals with how each of these characters handles the stresses of combat, and how their experiences prepare them for the final battle. Then I substituted vampires for terrorists.

So write what you know, but don't be afraid to embellish a bit.
A final note: One thing that every publisher and agent has told me is not to write your own iteration of the latest blockbuster. The DaVinci Code and Twilight were overnight phenomenons because they were new and distinctly unique, which is why they sparked the public's imagination. After each of these novels went to the best seller list, publishing houses and literary agencies were inundated with knock-offs, most of which were not very good, and many pushed the bounds of copyright infringement. Sure, some of them got published. But rarely did any of these enjoy the success of the original works. Your goal should not be to write the next Harry Potter. Your goal should be to write a novel so unique that five years from now other writers will want to imitate you.