My favorite comic book character, Captain America, is the perfect superhero because he's not so super. He doesn't fly, he's not impervious to harm, although his body can regenerate when damaged, and while he's a lot stronger than any other normal man, he's not Spidey-strong. He's just a tough scrapper, a formerly scrawny guy from the East Side of New York (or Brooklyn, as he says in the movie) who does good because it's simply the right thing to do. And when he gets his chance to serve his country after being labeled 4F five times, to fight a clearly defined and very evil foe, he takes it without batting an eye. He doesn't like anyone getting pushed around, let alone himself.
Looking a lot like the "Hey, Skinny!" weakling in the Charles Atlas comic book ads, he knows a lot about getting beat up, but he never quits, even after losing his parents, not getting the girls, and constantly being bullied because he's small. That speaks volumes to the American spirit that won World War II after getting knocked down hard in Hawaii. With all this patriotic symbolism, and the many pitfalls inherent in handling it today, it's very gratifying to see how well Joe Johnston and the writers of Captain America: The First Avenger guietly acknowledge its power by underemphasizing it, keeping their story simple, the dialog chipper and in period, and the characters determined. There's an old time serial movie mood that permeates every scene, and honey-gold tones to color it nostalgic. There are clear cut heroes and villains to root for and hiss at, and they're simple but believable within the comic book context. This movie gets the job done as well as Cap does, without inane, loud clashing robots, and pandering to the popcorn rows.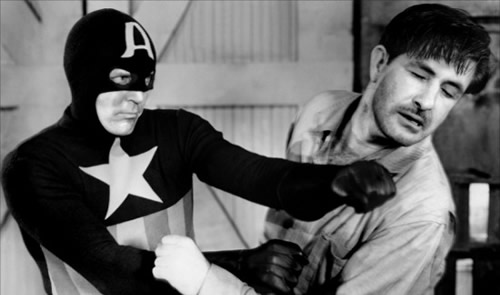 Steve Rogers (Chris Evans, the Human Torch in the Fantastic Four movies) takes it on the chin mentally every time he gets denied enlistment in the army. He's sickly, fragile, and determined to show that's only his body, not his spirit. He gets his chance when Dr. Erskine (Stanley Tucci) offers him super strength, strong stamina, and a chance to finally knock some Nazi heads together. Colonel Phillips--the surly Tommy Lee Jones and his patented army role go together like bread and butter--deadpans his disagreement with the doctor's choice for volunteer, but Rogers shows his ingenuity and bravery, making the Colonel give up by saying "he's still skinny." But not for long.
The doctor's process of chemicals and Vita-Rays transform Rogers into a brawny hunk. The transformation is startling because the CGI is seemless. Shrinking Evans' real body into the smaller Roger's one is uncanny because it's believable. The initial plan of using a smaller person with Evans' head superimposed didn't work well because the body movements  between Evan's and his stand-in didn't match up. The downsizing tweak left space in the scene that needed to be filled, so you can imagine the complexity of getting it right. A spy kills Erskine, leaving Rogers the only super-soldier the army's going to get. So they put his newly endowed powers to good use:  by selling war bonds. A clever set up for the eventual costume and the name 'Captain America' evolve naturally from his touring for the war bond effort. 
When his best friend, Bucky Barnes (Sebastian Stan) goes missing in action, Rogers breaks ranks, with the help of Howard Stark (Dominic Cooper doing a mean Howard Hughes riff) and Carter (Hayley Atwill), to go after the power-mad Red Skull (Hugo Weaving) and his HYDRA minions, whose advanced weaponry and technology stump even Stark. In possession of the Cosmic Cube, the Red Skull has unlimited power at his disposal to accomplish his plan of world conquest.
Although the movie begins in the 1940s, it ties into The Avengers movie being released next year. You can catch a glimpse of it if you wait for the credits to end. I strongly recommend every congressman watch this movie. It might help them remember what they seem to have forgotten about the American spirit and getting the job done.