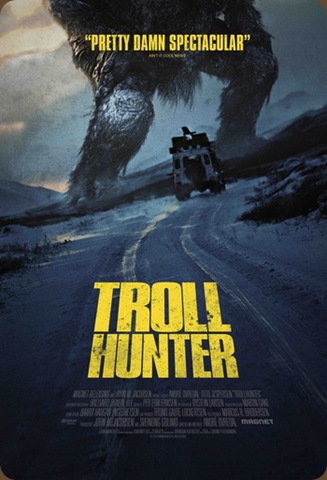 Zombos Says: Very Good
I had two questions in mind after watching Andre Ovredal's TrollHunter: Why does Hans (Otto Jespersen) work alone, and why can't American Horror movies take off-the-wall risks like this small budget Norwegian movie more often? 
Hans is the laconic troll hunter followed by three students from Volda College. They're filming a documentary about bear poaching and he's pointed out by the local hunters who suspect him because he's a stranger. He tells them to go away, but they persist and follow him at night, deep into the woods. Thomas (Glenn Erland Tosterud), the leader of the trio, makes a joke about meeting inbred pig farmers (but this is not a French Horror movie, so he needn't worry).
Now comes the refreshingly audacious part: flashes of light and strange roars in the distance, followed by Hans running past them yelling "Troll!" I'm thinking this is going to be silly and it is, terrifyingly so. The troll crashes through the trees he nearly towers over and hunts them. All of the trolls in this movie are big or bigger, slow moving, and look like Jim Henson's furry Muppets, but uglier and nastier than you'd find on Sesame Street. They are also quick to kill in this mockumentary, especially if they smell Christian blood. Hans isn't sure about a Muslim's blood when asked if the trolls hate it, too.
Hans uses UV light to turn the three-headed troll chasing them to stone. Later, the veterinarian he works with explains the biological factors behind that for us, but UV light either makes them explode if they're young, or turns them into concrete if they're old. Seriously. It's this droll seriousness that keeps TrollHunter's humor from trumping it's chills, which come each time we meet different trolls,  each getting bigger as we do. Telling Thomas, Kalle (Tomas Alf Larsen) the cameraman, and Johanna (Johanna Morck)—who holds onto a boom microphone—that he "doesn't get a night bonus," Hans finally agrees to let them follow him as he hunts trolls for the Troll Security Service. The TSS, using bear attacks as a cover, is not happy Hans let the secret out.
The funniest images happen when the veterinarian tells Hans she needs a blood sample. The needle he uses is a tad smaller than the one they used in the Amazing Colossal Man, but it's still big enough to be a clown's prop. Dressing in what looks like a suit of armor with a big red button on his chest, he carries a bucket filled with a "Christian man's blood" to attract a troll living under a bridge. There's a terminal amount of blood in that bucket so I wonder how he got it. After getting chomped on, slammed, and dunked by the annoyed troll, Hans warns Thomas not to touch the button as Thomas helps him up.
Given the this-is-film-footage-found-after-the-fact style of this movie, with the now standard night-vision scenery and budgeted special-effects viewing angles further obscured by shaky-cam, the story hangs onto its Blair Witch quality of suspenseful immediacy at the cost of details, especially when that footage ends abruptly.
Even so, the American remake is already around the corner. We're always good at taking safe risks after others take the more riskier ones.