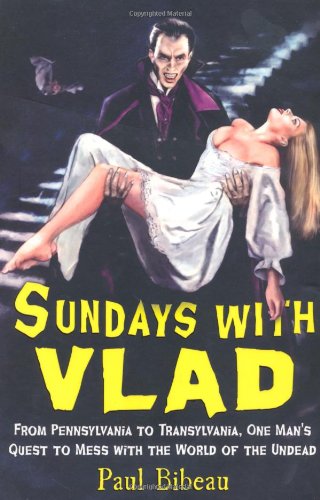 Paul Bibeau's Sunday's With Vlad is a monsterkid's dream journey, a wild carnival ride, and a sheer delight as Jeffrey Lyons would say. Spend a Sunday or two with Paul and Vlad, or while away a weekday at his Goblin Books blog, or meet him right now...in his own words...near a dark desk.
Let me tell you about the dead men hidden in my office.
Twenty years ago when I was a recent graduate from college I took a job as a reporter for a small town newspaper. I lived over the bingo hall of the local Catholic church, I smoked a pack a day of Camels unfiltered, and when the night came over that place and it turned a rich country dark...I went out walking. I talked to vagrants, drug dealers, and cops. I snagged a dinner invitation from a man who'd turned his property into some kind of paramilitary fortress, like he was ready for an attack. The local criminals threatened me because they thought I was an undercover cop. And the real undercover cop, standing nearby and wearing a wire, recorded it all. I saw things and did things I will never forget.
Ten years ago, when I was a magazine writer living in New York City, I took a trip back to the town, took notes, and began writing a novel about my experiences. It was filled with death and crime and sexual perversion, and the sharp-sweet and terrible smell of that paper mill that dominated the whole region. I hated it and I miss it. The novel took three years of my life and went through four drafts. It was a piece of crap.
Seriously. My best friend took me out for drinks and told me how bad it was as gently as he could. I still have some of the rejection letters from agents -- there were more than a hundred. The novel had great parts, but they didn't add up to a great novel. Someone once said you write a good novel twice and a bad novel over and over.  That's exactly right. I am a big proponent of rewriting and editing, but a novel has a window of time in which you can either make it right or fail forever. How many of our life's moments are like that? How many perfect near-misses do you have?
Anyway, now I look at the thing and I see the 20 year-old man I once was, who lived in this world and let it break his heart... and the 30 year-old man who tried to write about it and couldn't. Those men are gone. I can't get them back.
But someday soon, I promise you, friendly reader...I will write the story of a 40 year-old with a stack of paper in a dark desk drawer. He has his secrets and his regrets, and he realizes to make this story right, he will have to solve the mystery at the heart of it -- a murder, actually. But isn't every failed story a bit like a murder? I will write it as boldly as I can, until the old authors come back to me and speak their secrets. I need to do it soon.
My time is running out.