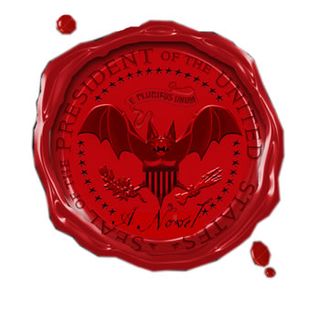 Zombos Says: Very Good
Nathaniel Cade is an 1860s vampire hoodwinked by President Andrew Johnson to serve and protect the President of the United States. His new partner, Zach is a modern day career-hungry politico hoodwinked into being Cade's human compatriot after a dalliance with the current president's daughter. Konrad is an evil Dr. Frankenstein type formerly of the Nazi SS who tries to hoodwink them both in Blood Oath, a race against time  supernatural spy novel assembling terrorist plots with nearly unstoppable zombie-steins to keep your blood running.
Cade's blood oath to protect the oval office, bound by Marie Laveau's Voudou in the 1800s--explained in a flashback to the events that prompted President Johnson to enlist Cade's services--keeps him from harming anyone except those who threaten the United States. He is incredibly strong, nearly indestructible, very self-assured, a natty dresser, and difficult to work with. 
In the opening salvo, a Special Ops mission in Kosovo pits him against a Serbian werewolf to retrieve a mysterious box. His constant battle with the Other Side's horrific threats is hinted at here, but as soon as the box is safely returned to the Smithsonian, where Cade has his digs, another terrorist plot begins.
Christopher Farnsworth keeps the story concise and the reading tuned to non-stop pitch as Cade and Zach get to know each other's foibles, strengths, and annoying habits in their search to find the truth behind a container shipment of badly decomposing body parts. Cade suspects his nemesis, Dr. Konrad Dippel, an alchemist who discovered the Elixir of Life and thus has lived for over 300 years, is behind the mystery. Konrad's penchant for assembling body parts into dead-men-walking automatons of destruction doesn't hurt, either, to implicate him. But another covert operation and shadow organization interferes with the investigation, providing more obstacles for Cade and Zach to overcome. These obstacles push each to their limits, revealing both men's vulnerabilities and their importance to each other.
The strength of bond that slowly grows between them, the stoic vampire who refuses to drink human blood and attends AA meetings (though he doesn't know why), and the flippantly selfish younger man, lends the story a deeper and continuing interest that will garner a following of loyal readers. Through little touches of their actions, dialog, and silences, Farnsworth softens Cade's and Zach's innate inhumanness into revelations for both of them; ones they didn't know they had buried away inside.