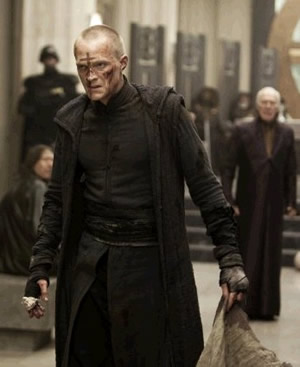 Zombos Says:  Good
I saw Priest and Thor on the same day, but in different theaters. Both used a prologue (backstory preamble) to prep the audience for their stories. My favorite prologue, by the way, is the Sauron battle in Lord of the Rings.
Priest uses an animated one, which, like the one in Jonah Hex , is unnecessary and ill-fitting: the cartoon story transitions poorly to the live action one. I would have preferred being dropped knee-deep in Priest's Blade Runner cities, Mad Max wastelands, and Old West outposts without a cartoon explanation. It's about vampires running rampant. I get that. It's about the church using the vampire threat to create a controlled and repressed society dominated by Christian faith. I got that, too.
The CGI vampires in Priest are blind, monstrous, and live in hives held together by their slimy body fluids. They look and move like typical video game monsters and have protruding upper and lower fangs much too long. There's a queen mother for the hive, like Alien, and human familiars—Renfield-like servants to the vampires—who look moribund themselves. People live in large walled cities or Wild West looking  settlements. The cities are all slimy, techno-grunge decay with video-confession kiosks arranged like Porta-Johns on the streets, and the settlements are located in the wastelands outside the cities, a post-apocalyptic landscape with high radioactivity and voracious vampires looking to make a comeback, led by a hybrid super vampire with dreams of gory.
It works in spite of its derivative dialog and posturing because the plot is uncomplicated--a renegade priest risks excommunication by declaring the vampires are back--and the action is straightforward--the priests (and priestesses) trained to be vampire-killers are kick ass at what they do.  What doesn't work is the 3D because it's ignored: in daylight the wastelands are bleached white, leaving no contrast for depth, and at night it's too dark for highlights, which again are needed for depth. Worse, the movie was 2D changed to 3D.
When a homestead is attacked and a girl (Lily Collins) taken by the vampires, Priest (Paul Bettany) defies Monsignor Orelas (Christopher Plummer) and heads to the wasteland, on a rad motorcycle, to kick up some dust. He teams with Sherif Hicks (Cam Gigandet) to find the girl. The monsignor sends priests and a priestess (Maggie Q) after Priest. They ride rad motorcycles, too.
At Mira Sola, a vampire hive Priest still has nightmares over, a tangle with a large hive guardian and a discovery of what the vampires are up to leads to a showdown aboard a fast moving train heading to Cathedral City, where the sun never shines. Motorcycles replace horses, and Black Hat (Karl Urban) fills the role of villain.