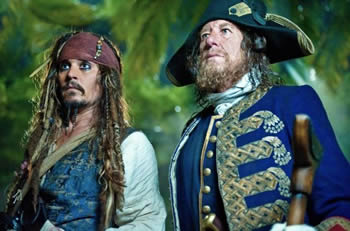 Zombos Says: Good 
"I simply do not buy Penelope Cruz in the role of Blackbeard's daughter, Angelica," said Zombos, stretching his long legs and leaning back in his short chair. We had just finished watching Pirates of the Caribbean: On Stranger Tides at a local theater; in 2D not 3D, since the movie was atmospherically murky enough.
I started crossing my short legs, but in the process tipped over the gigunda-sized popcorn bucket I had barely touched, spilling its contents all over Zombos' expensive Mezlan Giambis. Those are frightfully expensive shoes by the way. He alternated shaking his feet, but the buttery kernels stuck fast. He grimaced and swung his legs away from me.
He continued. "With her diminutive presence, she hardly holds her own between Ian McShane's smoldering Blackbeard and Johnny Depp's conniving, roguish Jack Sparrow. She looks so blow-the-man-down fragile. How can anyone possibly believe she is the daughter of a demonic pirate? Missed the casting boat on that one I dare say."
"Aye," I said, "and quite a demonic pirate Blackbeard is. I'll say this movie careens into darker territory, bordering horror, and shows less of the loaded to the gunwalls playfulness  toning the other movies."
"Where would you say the horror elements come into play?" asked Zombos, continuing to shake his shoes every now and then. I pretended not to notice.
"The mermaids for one, when they need to get a single tear from one for the Fountain of Youth to work. Vampire-like fangs, frisky evil intent; they're seductive yet monstrous as they seduce the sailors, then drag them under to drown and devour. It's a well-choreographed fight. You've got Blackbeard using his crew as bait to bring in the mermaids, and when they come it's every man for himself. Just like in a horror movie."
I continued. "Then there's Blackbeard's quiet but deliberate entrance during the mutiny on his ship, the Queen Anne's Revenge, with his hair coils glowing red and smoking at their ends, a stark contrast--his sinister demeanor I mean--against Jack's grog and looping swagger deportment. Blackbeard's voodoo powers, his zombiefied men--a nod to the popularity of zombies more than a properly fitting story element--peg him more as supernatural horror threat than did Captain Barbossa's curse in the first two movies."
"Yes," said Zombos, " waving his cutlass to control the ship's cordage to entangle his mutinous Jack Tars and stop them, Blackbeard does cut a strikingly horrific figure: evil to be reckoned with or avoided. And seems there is always a prophecy to spur on the wicked: a one-legged man to spell his doom. I wonder how he found it out?
"Geoffrey Rush's Barbossa is almost as sinister and callous as Blackbeard, a departure from his earlier helm at captaincy," I added.
"Well," interjected Zombos, "if you had to cut off your leg to save yourself from Blackbeard, I  suppose you would become quite soured and surly yourself. Superb way to carry a rum bottle, though."
"True, but since the story's jury rigged from Tim Power's On Stranger Tides, I'd guess that's another  reason for discrepancies in characters from the first three movies and this one. The lower budget keeps it less ambitious in swashbuckle and six pounders, too. Or maybe the tempo is off because Gore Verbinski didn't direct his pirates this time around."
"Budget may be another good reason, since it was filmed in Hawaii instead of the Caribbean. Pirates of Hawaii does not sound as imposing, does it," quipped Zombos, stretching his legs out again. "Given all the computer enhanced scenery, I am not sure location matters all that much anymore." 
"The coach chase through London didn't seem budget-restricted," I said.  "Lots of clamor and mayhem." 
"Still, there is plenty of fodder for another go round," said Zombos.
"Right," I jumped in. "There's the voodoo doll of Jack--glad we stayed past the credits to see the teaser with Angelica--the Black Pearl shrunk and pickled in a bottle, along with all the other ships Blackbeard had captured. And the possibility of a merman popping up, given the romantic entanglement between Philip (Sam Claflin) and the fetching mermaid Syrena (Astrid Berges-Frisbey). Enough elements for Jack to sail round the seas again should the Hollywood winds take him."
"With Kevin McNally as Gibbs by his side I would hope. He personifies the pirate wannabe in all of us even more than Jack," Zombos summed up.
I crossed my legs the other way. I didn't see the gigunda-sized Coke I had bought but hardly drank--too many trips to the bathroom with that one--and tipped it over. Zombos almost caught the wave, but managed to scrunch into a ball before it reached his shoes. He slowly unfolded his legs away from me. Again.
"You guys done?" asked a pimply-faced kid holding a carpet whisk almost as thin as he was. He dropped the bucket with determination and began sweeping up the spilled popcorn.
"You may need to swab the deck here," I told him, pointing to the floor in front of Zombos. " I spilled some Coke."
He grimaced at me, too.