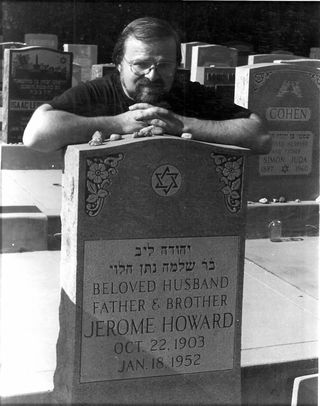 A visit to Curly's graveside,
courtesy of Professor Kinema.
"N'yuk, n'yuk, n'yuk!"
If ever a visit to a gravesite conjurs up visions and, especially, sounds of days gone past, it's a visit with Jerome Lester 'Curly' Howard, nee Horwitz.
When one (that is, those of us who truly appreciate the finer art of comedy at it's absolute lowest) thinks of the Three Stooges, the first sounds one hears are the sounds that eminated from the pudgy, hair-challenged one of the trio. For sure, he was the only man in existance who could recieve a pretty girl's comment of, "My, what a beautiful head of bone you have there," and take it as a compliment; "Aw, I bet you say that to all the boys."
Moe was the 'Head Stooge,' Larry was the 'Stooge in the middle' and Curly was the 'Super-Stooge.'
Being the youngest of Jennie and Soloman Horwitz' five sons, his mother always called him 'my baby.' This nickname morphed into 'Babe.' In the first of the 97 short comedies he appeared in for Columbia, without his hair and mustache,  he was referred to as 'Jerry.' This again morphed into 'Curly,' a natural moniker for one sans hair. Like many other beloved performers and personalities, his grave marker carries the surname he was best known as instead of his birth name. Inscribed is Jerome Howard instead of Horwitz.
At Graceland, devoted fans make the pilgrimage to visit Elvis' grave. At Westwood Cemetery, fans make the jaunt specially to touch Marilyn Monroe's crypt. Assorted desciples visit Pere Lachaise Cemetery in Paris to 'commune' with the ethereal spirits of Kardac and Jim Morrison (attracting two vastly different sects of followers, to be sure). Rabid admirers in turn, including the ole Prof, have paid a special visit to a specific gravesite in the Home of Peace Memorial Park in East Los Angeles. With a tradition reaching back into antiquity, offerings are left at this gravesite, usually stones brought from the visitor's home. Unfortunately, fans tend to feel the need to take a souvenir back with them. This often results in a chip from the tombstone.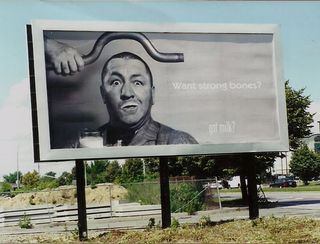 It's a true homage to a bygone personality and his contribution to culture (especially the USA's 'junk culture') when his image is used in conveying a message in modern times. Along with Jeopardy's Alex Trebek and former US President Clinton, Curly was asked one of the eternal questions of our age: "Got Milk?"
While visiting a friend in Brooklyn in the 1990s, he led me to a certain nearby billboard. Milk will always remain an excellent source of calcium for stronger bone density, which was especially needed for what Moe always referred to as Curly's 'cast iron skull.'
If asked whether or not he drank a lot of milk, his reply could only have been "Soiten-ey!"
PK/JK