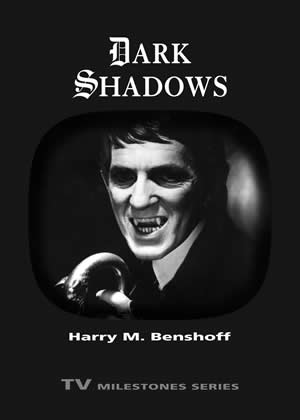 Zombos Says: Excellent
But whether naive or deliberate, pop or queer, Dark Shadows camp appeal is one of its strongest drawing points, one that many fans of the show appreciated immediately, while others "grew into it" as they got older (Harry M. Benshoff)
If words like diagesis (narrative), quotidian (commonplace), and metonymy (figure of speech and then some) give you frissons (chills) reading them, Harry M. Benshoff's academically-jargoned analytical look at Dark Shadows may not be for you. But I still recommend you give it a try: Benshoff keeps his usage of them to a minimum while the rest of his words, albeit quotidian, are well chosen, probing, and informative.
This pocket-sized book in the TV Milestones Series will initiate the merely interested reader and satisfy the devoted fan with its concise yet comprehensive coverage of this influencial, episodic Gothicmash of beasties and ghosties that originally aired from 1966 to 1971 on American television.
I was and still am one of those fans. As an impressionable kid, running home after school each day to watch the latest episode was an imperative. I was so hooked I even chose Barnabas as my Confirmation name. I blame actor Jonathan Frid for that; his memorable role of tormented vampire Barnabas Collins, with its romantically-tinged pathos overshadowed by his cursed sanguine darkness, propelled the series' unusual supernatural sashays into witchcraft, lycanthropy, Lovecraftian Mythos, hauntings, and vexing time travel well beyond 1960s soap opera pablum. Campy? Sure. Earnest in its low budget Gothic-noir intentions? Very much so. Groundbreaking in its use of the episodic soap dynamic to "sell" its spooky shenanigans to a wider audience of enamored housewives, counter-culture leaning teenagers, and easily seduced kids like me? Positively. Years after its initial run, Dark Shadows still thrives on DVD, through conventions and fan fiction, and in a planned movie reimagining courtesy of Johnny Depp and Tim Burton.  
Benshoff ably covers the cultural influences the show had (and still exerts), and details the daily business grind of producing it within budget and on time, which contributed to all those endearing flubbed line-readings, wobbly sets, and poorly chosen camera angles revealing smoke pots and fake trees. No other series on television has captured the giddy, slightly naughty fun radiating from the horror host pastiche of sly, self-referential cheekiness with horror as much as Dark Shadows. Not as blatantly campy as Adam West's Batman--the epitome of camp in the 1960s--but more subtle in its winking at the audience at a time when "there was a thriving "monster culture" in the United States."
From its generic story lines, full-throttle performances, cheap sets, and outlandish narrative events, Dark Shadows almost begs to be decoded as camp: what is meant to be frightening is also often ludicrously amusing.
But Dark Shadows was never played for laughs; whatever campiness emerged came from its stage actors and a serious approach to the "often ludicrously amusing" events. And to fans of the horreur fantastique like me, 'ludicrously amusing' is the bread and butter of our devotion to the genre.
In Chapter 4, Television Melodrama and Episodic Structure--my favorite section--Benshoff examines the series' daily format that maintained its "rigid narrative structure." His analysis of the voice-over during the opening credits, Robert Cobert's atmospheric music, the composition of shots, set design, thematic elements of episodes, and costuming is revealing and absorbing. In Chapter 7, Legacy, he rightly places Dark Shadows as the antecedent to the Gothic franchises of today, especially because of its "narrative importance of serialization." The two theatrical releases, House of Dark Shadows and Night of Dark Shadows are also assessed here, along with the vagina dentata imagery to be found in Night's one-sheet poster.
Hippie appeal, the actors , fandom, and the possible queer subtext to be found in all the male and female bonding going on around Collinwood round out Benshoff's more-than-a-mouthful's worth of thought-provoking reading available in handy monograph size.