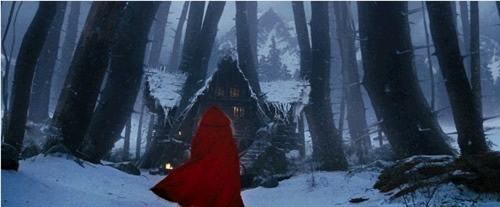 Zombos Says: Fair
"I still want my money back," insisted Zombos. He gets like that when we see a movie he doesn't like.
"Fine, then," I relented. Here's your six dollars. But I'm not paying for the popcorn and Junior Mints. You ate most of those anyway." Zombos folded the money and pocketed it, then rushed back to the concession stand. Probably to buy more Junior Mints. While I waited for him, I thought through my impressions of Catherine Hardwicke's Red Riding Hood.
A child's imagination of fairy tale prettiness infuses everything. Clothes, people, the surrounding medieval forest, it's all colorful, cheerful, and naively pretty. Clothes are clean and neat, people are clean and neat, and the village is clean and neat. No Dark Ages grunge or malaise to be found here. Cindy Evans' television series costuming (the way rustic villagers in Stargate SG-1 episodes are dressed, for example), reinforces this lightness. And although snow is falling and winter is upon them, no one is bundled up against the chill. No frosty-breath comes from mouths and the ladies' bosoms are bared for spring, especially Valerie's (Amanda Seyfried). When Grandmother (Julie Christie) gives her the red-hooded cloak, it's a fashion statement, not a garment to wear because it's cold.
The Village of Daggerhorn has been beset by a killer wolf for many years, yet the village is happy, a thriving place with everyone well-adjusted, immaculately groomed, and nattily attired. The forest is happy with its bright fields of flowers, and the village idiot is happy, and as pretty and well groomed as everyone else. He doesn't act too idiotic, either, just enough to be adorably off.
Father Auguste (Lukas Haas) is the only one who is dour and shows concern. He has sent for the witch and werewolf hunter Father Solomon (Gary Oldman playing Gary Oldman). Father Solomon's prior experience with a werewolf left him traveling around in an armored carriage with heavily armed guards. Arriving in the village, one guard, sitting atop the carriage, keeps aim with his crossbow, sweeping it back and forth as if he expects trouble any second. It looks pretty silly. Solomon also travels with a large, hollow, bronze elephant, with a door in one side. He locks people he doesn't like in it and lights a fire underneath to torture them.
This is as medieval as it gets.
Before Father Solomon arrives, Valerie's sister is killed by the wolf, sending the men off to hunt it down. They find a gray wolf, kill it, bring its head back, and show it to Father Solomon, claiming he's not needed. He disagrees and gives them the standard rundown on werewolfism. They ignore him and hold a rave party instead (or what would be the equivalent of one, I'd guess, for medieval times). The computerized werewolf shows up, chews up the scenery and townsfolk, and speaks to Valerie before he leaves. She notices his big brown human eyes as he tells her to run away with him or else he'll put the bite on the entire village.
Valerie now has a difficult decision to make. Run away with the darkly handsome, tousle haired, woodcutter Peter (Shiloh Fernandez), or stay and marry the handsome, tousle haired blacksmith Henry (Max Irons), or run away with a real stud, the tousle haired werewolf with big brown eyes. There is no tension or suspense produced by her difficult decision: Hardwicke's tone is non-committal, David Johnson's story is vapid, and Seyfried's performance is overshadowed by her hooded cloak. I had a more rewarding time at the concession stand making up my mind between Junior Mints and Reese's Pieces.
The romance turns into a whodunit as Valerie stares into people's eyes, wondering who (maybe whom?) the werewolf is. When the revelation comes it's like an ending from an Agatha Christie mystery.
Come to think of it, I want my money back, too.