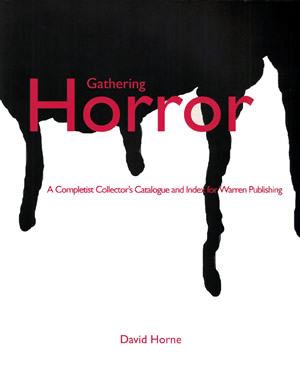 Zombos Says: Excellent
It's difficult as an adult to come up with words to describe what those magazines meant at the time to an adolescent youth in the pre-Internet years, to capture the warming glee of finding a new issue on the shelves, the urgent expectation and sense of discovery that came with turning the pages of each new issue, and the feeling that they inspired of belonging to some secret fellowship.
(David Horne, Gathering Horror)



My first impulse after reading and paging through the over 600 pages of listings and appendices was to wish I lived next to David Horne so I could ingratiate myself over, in order to roll around naked in his Warren magazine collection. Sure, I'd let him keep them bagged and boarded while I did that; I'm a collector, too, you know.
Gathering Horror: A Completist Collector's Catalogue and Index for Warren Publishing is one of those labor of love's you often hear about but seldom ever really see. The over 700 Warren-instigated magazines, and related materials, indexed with concise information, is a reference book fantasy come true for horror magazine collectors. Where McFarland's disappointing The Great Monster Magazines (by Robert Michael Cotter) whetted the appetite, Horne's reference work satiates it. It's the most inclusive and meticulously written catalog of its kind available.
Drawing on his publishing background, Horne has created a book that's as much fun paging through as it is to use simply as a reference for building a complete collection of magazine runs. Thumbnail cover shots identify issues, and content title information, along with important notes, accompany each entry. Selling and buying Warren magazines on eBay, scarcity and abundance of certain issues, and a common defects section provide a suitable and engaging introduction to this body of work, and important information to the collector.
I found the section on common defects invaluable since my knowledge of Warren publications is spotty at best. Horne's discussion of the Warren Order Form being on a magazine's last page, and the significance of this in relation to how Warren paginated their issues, points out an important potential gotcha: removal of the page from a magazine could be missed under casual scrutiny.
Horne also catalogs the Warren-related fanzines (they were blogs without the Internet, when you think of it), convention program booklets, adds a profiles and fan art index, non-comic and comic title indexes, editor index, writer index, artist index, Warren One of a Kinds listing, and foreign issues. There's even a Warren merchandise section.
The name "Captain Company" first appeared in Wildest Westerns 5, May 1961, and then in Famous Monsters 12, June 1961.
If you collect Famous Monsters of Filmland, Vampirella, Creepy, Eerie, Blazing Combat, and anything else Warrenesque, or aim to, Horne's Gathering Horror is essential as blood is to a vampire. He's printed only 300 copies at a ridiculously reasonable price of $34.95.
I wouldn't wait if I were you. You can find it under "Warren Catalog" on eBay.