When you think of it, Famous Monsters of Filmland's Captain Company was the Amazon.com for monsterkids, back in the day. Here's hoping that the new FM gets past the 'clothing thing' and branches out into more daring and exciting merchandise for young and old alike...
The Addams Family Haunted House model kit from Aurora was always a favorite for me. I must have bought 3 or 4 of these things originally (okay, sure, my model building skills suck big time), and now I've got the reissues (wisely unassembled this time) in my monsterkid collection. The glow kit and  ghosts addition versions are splendid, too.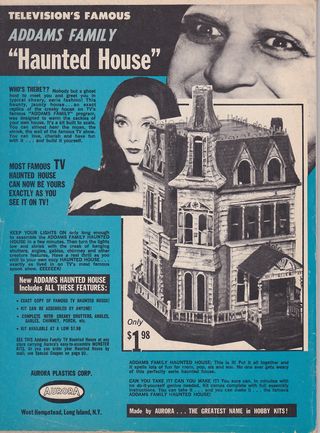 I really miss my Grow Live Monsters. The graphics on those colorful monster cards were simply awesome to behold. It took quite a bit of gumption for me to paste the grass seeds (cha-cha-cah Chea Pet!) onto the cards (and spoil all that alien terror), but once I did, the green hair effect was sublime.