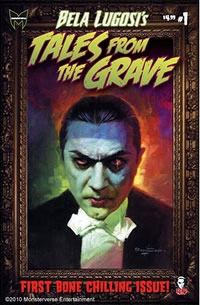 Zombos Says: Very Good
Ed Wood and Bela Lugosi would have been very happy.
Monsterverse's Bela Lugosi's Tales From the Grave, issue one, is campy, slick, and skillfully old-fashioned. It also has eye-pleasing artwork, coloration, and perhaps a tad too much verbosity to tell some of its stories (but not as much as the EC Horror Comic Books did); except for A Strangely Isolated Place, which tells its story in a splendidly macabre dance between art and sparse words.
Then again, it's this preponderance of words, neatly arranged within panels, which gives Tales From the Grave its nostalgic tone, seeping with the ill humours of acid-browning Warren magazines like Creepy and Eerie.
Quirky and short art stories, which include John Cassaday's humorous, black and white cartoon experiment gone haywire, and Joe Friere's Twisted ToyFare Theatre-styled (with a Pete Von Sholly bent) The Further Adventures of Dr. Vornoff and Lobo, take measured chances while providing a stylistic variety.
Rob E. Brown's Mark of the Zombie, a sepia-toned extravagance of Haitian Voodoo and putrefying zombies looks like a Ripley's Believe It or Not excerpt, but reads like a graphic novel. Unpleasant Side Effects, the lead off story drawn by Kerry Gammill and scripted by Sam F. Park, is a fun throwback reminiscent of DC's The Witching Hour, and Marvel's Tower of Shadows. Once again a mad scientist does his thing, but there's a happy ending--sort of.
Nosferina and Bela, with a small assist from Hugo the hideous, introduce the stories, although Bela steps in here and there, especially in the last story, Midnight Museum. Think wax museum and you'll have an inkling of what he's up to. Gary D. Rhodes intertwines the Lugosi and Dracula mystique in a two-page article to bring the curtain down on issue one.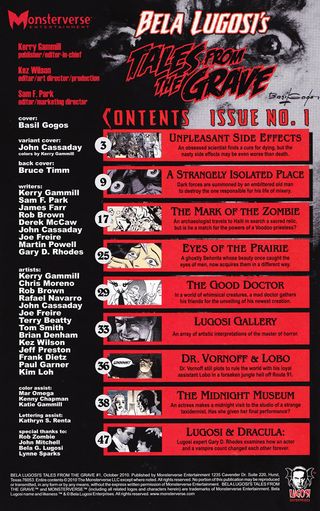 Monsterverse does a remarkable job in capturing the sinister, but strangely approachable, essence that makes Bela Lugosi an icon for horror's golden age and beyond. Bela Lugosi's Tales From the Grave is everything Dark Horse's Creepy should be.
Dark Horse, you've been served.