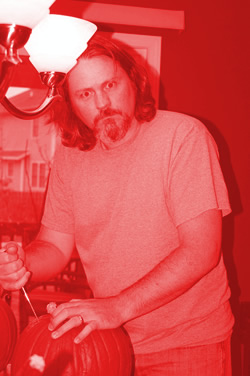 Five questions asked over a glowing Jack o'Lantern, under an Autumn moon obscured by passing clouds...in between mouthfuls of candy corn...author Dan Dillard writes mostly horror, but not always. Sometimes he writes about Halloween.
Why is Halloween important to you?
Not sure what it is about Halloween that is so magical. It could be the lore or the mystery. It's like our one time to become one with the paranormal and there's an odd feeling of safety about the day. Seems like I read that it was once a festival where families would light bonfires to warm the bones of their deceased ancestors who walked the earth on that evening. I like that idea. I'm also a huge fan of horror and the ghostly tales that seem to surround Halloween... and secretly I like the costumes and the candy. I like watching my children enjoy that aspect of it as well.
Describe your ideal Halloween.
My ideal Halloween would start with a well decorated house. That includes carved jack-o-lanterns. There would be a party with friends and family (in costumes of course). It needs to be a cool night, not too cold, and there has to be hundreds of kids bebopping from house to house with bags of treasure. Each of them ringing doorbells in hopes of scaring someone on the inside. After the kids come home with their loot, the wife and I get to watch a movie and steal all the Reese's cups.
What Halloween collectibles do you cherish, or hate, or both?
Wow, collectibles? I'm not sure. I love the figurines from the movies...Nightmare Before Christmas is a favorite. I'd love to have Jack and Sally maquettes... maybe Oogie Boogie as well.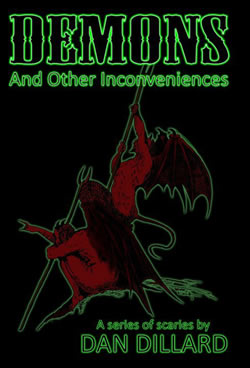 When was your very first Halloween, the one where "you really knew" it was Halloween, and how was it?
My family always celebrated Halloween. I remember when I was really young seeing my brother dressed as the Hunchback... he had latex scars on his face and fake teeth and the whole nine... That was pretty cool. I might have been 4 or 5. Think I was superman that year.
At 7 or 8 years old, I wanted to be a Tusken Raider from Star Wars...I think my mother helped sew the costume out of a tan bathrobe and my dad made the gaffi stick out of wood and styrofoam...it was pretty awesome. Pop on a little vacuformed mask and I looked great in the mirror... I also remember being Batman, Freddy Kruger, a Ghostbuster, a werewolf, and this year I'm...wait, that's top secret.
What's the one Halloween question you want to be asked, and what's your answer?
Q: Where can I get your book?
A: That's a shameless plug. I hope to hear a bunch of hopeful "Trick or Treat" s... That will be enough.
But you can still buy his book, Demons and Other Inconveniences, and What Tangled Webs, too.