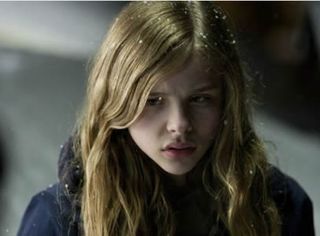 Zombos Says: Very Good
Abby: "You have to hit back."
Owen: "I can't. There's 3 of them."
Abby: "Then you hit back even harder."
Between the idealized romance-fantasy of Twilight and the fetishistic terror romp of 30 Days of Night lies Let Me In, Hammer Studios' English-language remake of Let the Right One In (Låt den rätte komma in), a movie that returns the vampire to its cursed existence.
Abby (Chloe Moretz) is a peculiar 12-year old girl who says she's not a girl. During the night she quietly moves into the apartment complex where Owen lives, accompanied by her sullen father. Owen (Kodi Smit-McPhee) is a peculiar, lonely boy, bullied at school, and wedged in the middle of his parent's divorce. He lives with his mother, who is very religious and hangs a crucifix on the wall. He also eats Farley's and Sathers Now and Later candy, in what possibly may be the most seemless product placement done for a film. It's Owen's only constant and cheerful companion. He sings the jingle in-between chews, "Eat Some Now. Save Some for Later." Abby can't share in Owen's enjoyment eating Now and Later because human blood is the only thing she can stomach; but both share an isolation, a need for companionship and acceptance, and both are caught between uneasy nows and always certain laters.
Abby is a vampire that doesn't kill for herself, although when aroused she attacks viciously, tearing throats apart and ripping off heads. Her father (Richard Jenkins) collects blood for her by waiting behind car seats and surprising his victims. He drains their blood into a plastic jug.  His joyless laters are filled with killing for Abby and he's been doing it for a long time. He hates it, but why doesn't he stop? When the butchered bodies turn up, a detective (Elias Kotias) investigates, believing a Satanic Cult may be involved.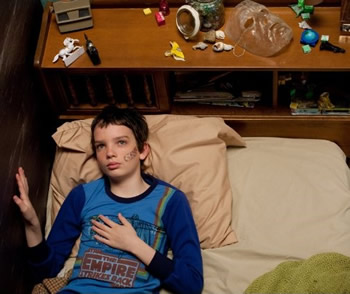 Both Abby and Owen are lifeless: she's dead and he lacks vitality. When they first meet, she's shoeless in the snow because she doesn't feel the cold. He has no friends at school and the apartment complex is filled with adults, so he spends his time alone in the courtyard chewing Now and Laters and avoiding the bullies at school. Owen can't emotionally grow up and Abby physically can't; she doesn't even remember how old she is. He probably wants to forget how old he is. He's so unhappy he puts a mask on and coldly pretends to stab imaginary bullies with his newly bought pocket-knife. Both Abby and Owen share a dark side, too.
Matt Reeves keeps us close to everyone, only briefly opening our view to see the turmoil Abby's curse brings, or to watch her from a distance as she easily scales a hospital's facade. She is a traditional vampire: her bite spreads the curse, sunlight is her enemy, and she must be invited into a room. When Owen asks her why she must be invited in she cant' explain why, but shows him what happens if she's not. The tone of the movie is dark and subdued by its close framing, which helps highlight the sudden moments of terror when they come: Abby's victim in the hospital awakes to sunlight as a nurse opens the curtains; Owen is held under water in the school's swimming pool at night; Abby transforms and attacks when the need for blood overtakes her; a car rolls over and over as seen from inside it.
It's unusual for a remake to be this good, this measured. Let Me In is an unusual vampire movie. It captures the sordidness of being cursed as a vampire and leaves no wiggle room for romance, blood substitutes, medical explanations, or sadistic predator delight. Abby travels in a box, sleeps in a bathtub, and smells funny. Unlike Bella Swan, the last thing on Abby's mind is wanting to be a vampire: now or later.