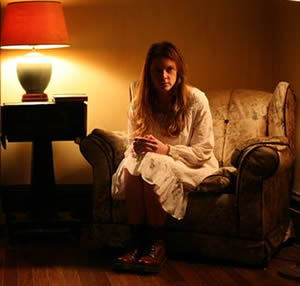 Zombos Says: Very Good
I once wanted a TV ministry. Now all I want is health insurance. (Cotton Marcus in The Last Exorcism)
Religious motifs in horror movies have been explored as far back as the 1920 movie, The Golem, the story of a rabbi using sorcery to bring a giant clay man to life. Usually what's involved are questions of faith (either too much or too little), questions of spiritual morality (again, either too much or not enough), and nasty demons chewing on souls and scenery with equal zeal (you can never have too much of that).
Often there are also important tests of faith when vampires--remember Fright Night's vampire and cross confrontation?--Satan, assorted minions of Satan, and especially Uwe Boll are involved. Strong characters--or at least heavily stereotypical ones--are essential for selling all that flashy Hell and licking flames of damnation mumbo-jumbo convincingly enough to seal the deal, too.
Minister Cotton Marcus (Patrick Fabian) does the mumbo-jumbo in The Last Exorcism "like nobody's business" as his wife would say, only he doesn't have faith in what he does. Coming from a family lineage of exorcists--they even have an old Latin guidebook with illustrations to identify those pesky minions of Hell--he's the last exorcist, but only in showmanship, not spirit. He knows it's simple quackery, on a par with snake oil, sold with hidden string pulling and MP3 recording playing. He explains his showy casting out of demons "gets all the press because they got the movie" and okay, maybe it does help those who believe in the devil's Hellfire of possession; but for him it's another payday after an easy salvation sale is made.
We know how he feels about this because he's doing a documentary to reveal the truth and, like the 2-person film crew in tow, we follow him as he does his knee-slapping sermons, illustrates the Prince of Lies' trickery with card tricks, and takes on a dare by preaching a Banana Bread sermon. He can summon a sparkle of brimstone between his fingertips with a snap and an Amen as easily as he dons his linen suit to reveal how he fakes an exorcism at the Sweetzer farm in Baton Rouge. After cattle killings have convinced Mr. Sweetzer the Devil's on the hoof and soul-snatching his daughter, Marcus answers the call for Nell's salvation. It's really another dare because to Marcus it's all so easy to do.
Nell (Ashley Bell) is all milk and honey and innocence. She draws beautiful pictures and hangs them on her wall. Mr. Sweetzer (Louis Herthem) is a devout, devil-fearing father who home-schools his daughter and fears for her immortal soul because she's possessed and butchering the cattle. Nell's exorcism is conducted in-between Marcus' revelations of the gimmicks he employs. The father is satisfied the demon has been expulsed and Marcus collects his pay.
When Nell shows up later at the hotel room where Marcus is staying, unresponsive and in her pajamas, the minister is unsure and no longer in control, two feelings he doesn't have much experience with. Returning to the Sweetzer farm, the test of faith for Marcus, the unintended revelation of another truth for his documentary, and those creepy new pictures that Nell drew and hung on her bedroom wall--pictures of Marcus and the camera crew in pieces--call for more involvement beyond what he had in mind, and another exorcism: this time a real one.
Or so it would seem. The Prince of Lies is either dishing it out hot and heavy, or someone else is putting on a better show. Marcus is eager to dig deeper, but his film crew is getting the willies. And for good reason: The Last Exorcist plays unfair with its handheld camera point of view style made famous (or perhaps I should say infamous) with Blair Witch. Like the unexpected shift in point of view seen in The Last Broadcast, Daniel Stamm directs in pseudo-documentary style, then ignores it by using more refined setups and music, two things you normally don't see in pseudo-documentary style because they confuse the effect. He even let's Nell hold the camera for a while: a surprisingly effective twist of possession, about her possession. The ending is surprisingly audacious also, but if you pay close attention earlier in the movie, not completely unexpected.
The Last Exorcism is a clever, well-acted, oddly directed, and a I-can't-believe-you-actually-did-that-ending scary movie. You won't see copious pea-soup vomiting, bed levitations, or 360 degree head turns, but what you do see is damn good terror. I'll stake my soul on that.