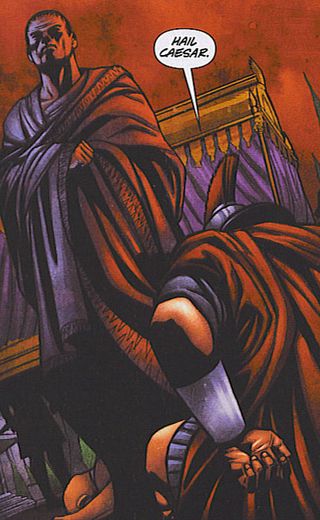 Zombos Says: Good
Ancient Romans co-mingle with ancient vampire slaves in this sword, sandal, and fang tragedy from the pen of Stuart C. Paul and the pencil of Christian Duce. The first issue hints at political intrigue and conspiracy as the Ides of March (the 15th of the month) approaches, placing this period drama in 44BC, when Caesar ruled Rome as a dictator with imperium over the Empire, which led to his assassination by Marcus Junius Brutus.
Taking its cue from Shakespeare's classic play Julius Caesar, and perhaps its earthiness from television's classy Rome, Ides of Blood portrays a Roman Empire literally sustained by the blood of its people.  After Caesar conquers the Transylvanian clime of Dacia, vampiric slaves serve the rich, the powerful, and the plebian citizenry. Held captive by silver chains and their own descent into subservience, the vampires provide servility, commodity, and satisfaction for baser needs to those who can afford and desire them.
Valens, vampire and former slave, has ascended to become a Praetorian Guard and a presence in Caesar's eye. He is tasked with finding the killer known as Pluto's Kiss, who is murdering the rich and powerful. Walking both worlds of light and shadow, Valens' ambition is at odds with his past and potential future.
Duce's heavy black lines are suffused with red hightlights (Carlos Badilla is the colorist), making this Rome darker and more sinister in look as well as in spirit. Valens leads us through Fang's Alley Brothels and the dirty streets of the city to find the killer. Tracking down a lead using the senate-enforced branding all vampires must submit to--a unique idea for identifying a vampire from their bite--Valens heads to Danube's Delight to find Ione of the Drodescu, a barbarianess with no patience for his questions, but with ties to a radical group known as the Vrykolaka Res Publica.
Ides of Blood is an intriguing variation on the vampire theme. With a hint of the Machiavellian machinations of Twilight's Volturi, and the positioning of vampires as common slaves ingratiating themselves into the cultural fabric, Paul and Duce appear to have side-stepped the current genre debate over sadistic vampires driven by bloodlust being more proper than coutured vampires driven by romance and familial obligation. Paul's vampires are slaves who yearn for freedom, and Valens' lust is steered more towards growing the modest grapes on his vine and sleeping with Caesar's niece, while his ambition is to rise in power and acceptance.
These three goals--wine, sex, and power-- defined ancient Rome quite well.