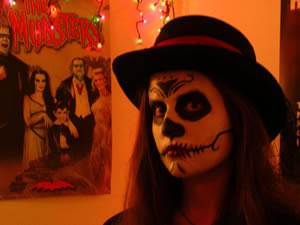 Five questions asked over a glowing Jack o'Lantern, under an Autumn moon obscured by passing clouds...in between mouthfuls of candy corn...with Zombie Ballerina dancing at Spooky Little Girl all Halloween Night long...
Why is Halloween important to you?
Halloween is, needless to say, my favorite time of year. It has an air of mystery and magic about it, and no matter how old I get, that magic never quite fades. I think Halloween gives people a great opportunity to have a little fun with "the dark side," something that is ignored or abhorred all too often throughout the rest of the year. During the entire month of October, there are things that appeal directly to my interests everywhere I look; even a mundane trip to the drugstore can be fun. TV programming is just a little bit better, there are haunted houses and horror movie revival screenings everywhere, and finally - finally! - it feels like everyone is on the same page as me.
Describe your ideal Halloween.
I would love to throw an amazing Halloween party in a quintessentially spooky old mansion. (Think 1313 Mockingbird Lane, or Hill House.) Someplace vast and eerie and unsettling. Themed food, including an array of pumpkin-based dishes, both savory and sweet. No one is admitted without a scary costume; no joke costumes or T-shirts that say "THIS IS MY COSTUME" allowed.
Ideally, during the course of the evening, myself and my partygoers would somehow manage to raise the dead, who would emerge from the backyard cemetery to perform an elaborately choreographed creepy dance, a la Thriller.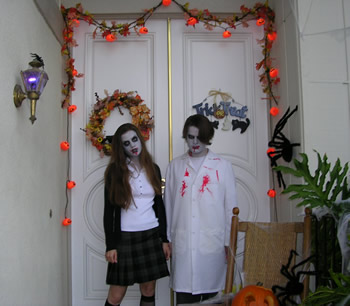 What Halloween collectibles do you cherish, or hate, or both?
My boyfriend and I have a small but much loved collection of Spooky Town houses and similar Halloween figurines, which we display year round. I also have a soft spot in my heart for old school paper decorations - cutouts of Dracula, Frankenstein's Monster, the Wolfman, etc., the likes of which you can buy at any party supply store for like 50 cents.
When was your very first Halloween, the one where you really knew it was Halloween, and how was it?
I think I was around 3 or 4 years old. I remember piles of dead leaves and cheap black capes and crying when I saw how ugly I looked in my witch costume, with my carefully applied green makeup and spirit gum wart (courtesy of my mom). I remember trick-or-treating shyly and feeling intimidated by the older kids and their rambunctiousness, but I also remember feeling excited and intensely curious about what was going on.
What's the one Halloween question you want to be asked and what's your answer?
Q: What is your favorite Halloween-appropriate song?
And the answer is a tie: "Spooky" by the Classics IV (of course!) and "(Don't Fear) The Reaper" by Blue Oyster Cult.