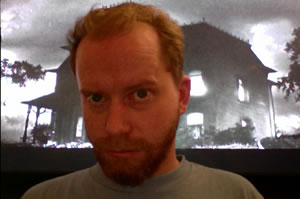 Five questions asked over a glowing Jack o'Lantern, under an Autumn moon obscured by passing clouds...in between mouthfuls of candy corn...Kindertrauma's Unkle Lancifer tells us, in-between mouthfuls of candy, all about his night of beaming spirits.
Why is Halloween important to you?
As an avid despiser of all things summer, the entire month of October is my friend. It makes due on a promise that September is unable to fulfill, the promise of the complete death of summer. Halloween is the best night in the best month of the year. On Halloween everyone behaves in the way that they want to all year round but are afraid to. Also I firmly believe that the wall between our world and that of the supernatural world is onionskin thin on Halloween night provided you drink enough.
Describe your ideal Halloween.
I would like to spend Halloween being chased by a psychopathic killer in a Leonard Nimoy mask. Unfortunately, I am currently too long in the tooth to be proper psycho bait so that boat has regrettably sailed.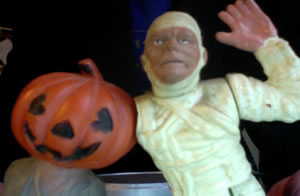 What Halloween collectibles do you cherish, or hate, or both?
I have a plastic pumpkin-head man that used to be filled with candy but is now filled with crushed leaves from a cemetery in Salem. I created it about twenty years ago and I believe it has magical powers of some sort. He hangs out with my one-armed mummy action figure.
When was your very first Halloween, the one where you really knew it was Halloween, and how was it?
When I was a wee child I was severely injured whilst performing a temper tantrum. I was left with a scar on my forehead, which has faded a great deal at this point but was pronounced in my youth. A bunch of kids (who eventually met mysterious ends) used to tease me and call me "Frankenstein." (I know, Frankenstein is the doctor and not the monster but these kids were morons.) The first Halloween I remember fondly involved me dressing up as Frankenstein's monster as a response to my tormentors. It was on this day that I vowed to use my freaky nature to my advantage whenever possible and to celebrate my slew of deformities.
What's the one Halloween question you want to be asked and what's your answer?
Q: What are you going to dress up as this year and what are you going to drink on Halloween night?
A: The answer is "The Legend of Boggy Creek" and Jim Beam.