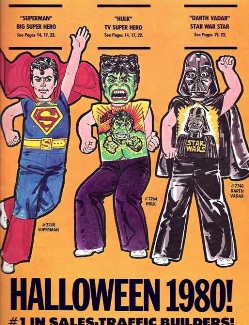 Five questions asked over a glowing Jack o'Lantern, under an Autumn moon obscured by passing clouds...in between mouthfuls of candy corn...with Allhollow Steve of Halloween Addict who keeps his October Dreams in mind all through the year...
Why is Halloween important to you?
I think it's one of the few holidays that is really about fun. It hasn't been clouded by set-in-stone tradition, family politics, overcrowded holiday travel, gift buying stress, etc.  It's about the thrill of being out at night, getting free candy and treasures, dressing up in costumes, watching scary movies.
You can celebrate Halloween however you want: with loved ones indoors, traipsing through a corn maze at night, by the warm glowing warming glow of a television horror marathon, handing candy out to kids and families at your door, building a yard display for the community to walk by and see.  So many different things, and it's all about fun.
Describe your ideal Halloween.
My ideal Halloween would be waking up with a balanced Halloween breakfast of pumpkin pancakes and a bowl of a General Mills Monster Cereal. Then I'd be out the door embracing the crisp Fall day and off to the local pumpkin patch for pumpkin scrutinizing and picking. From there I'd head back home to read a little from my favorite Halloween tome "October Dreams" while sipping a pumpkin spice latte. With AMC's FearFest on, I'd spruce up my house with any last minute decorations and carve my jack o' lantern before the trick or treaters start showing up (I'll be the cool house giving out mini Jones Halloween sodas and full sized candy).  When the doorbell stops ringing I'll switch over to my annual tradition of watching Trick 'r Treat with the lights off. I'd close the evening with John Carpenter's Halloween.  Once the clock 'ticks to 12:01am on November 1st the magic of the night dissipates...
What Halloween collectibles do you cherish, or hate, or both?
As a kid, I had a 55" classic Beistle jointed green-tinged skeleton that hung on my bedroom door every October.  I loved that thing.  When the skeleton got hung up I knew that candy wasn't far behind. As for collectibles/decorations I don't like, I'm not a huge fan of vintage Halloween collectibles. I think it comes down to the fact that I don't like googly-eyed jack o' lanterns. I like a traditional jack o' lantern with empty triangle eyes. There's something both friendly and sinister about that traditional look.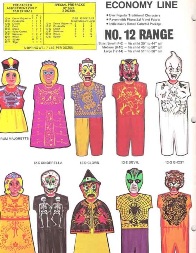 When was your very first Halloween, the one where you really knew it was Halloween, and how was it?
I can't quite remember my very first.  I know that one of my very first costumes was a Collegeville "Tiger" but the one I really look fondly on was when I was in Elementary School and asked for and received a Ben Cooper "Darth Vader" costume.  My mom had this black velvet cape from a Halloween party she and my dad had gone to a few years before and I swapped the crappy, short vinyl cape that came with the boxed costume with the huge, black velvet one.
I wore it to school for the October "costume day" (when the teachers parade the classes around to each other's classrooms). In my mind I WAS Darth Vader. There was no more authentic looking Vader in that parade.  Didn't matter that I was still wearing the bright yellow vinyl suit part that said "DARTH VADER" across the chest, or that the cape was red on the inside (clearly more Dracula than Vader), OR that I was only 3 1/2 feet tall and not a 6' 5" David Prowse, OR that the mask had a rubber band holding it to my head.  Didn't matter.  I was rockin' that Vader costume.  Even had the "Imperial March" tune stuck in my head as I tromped around.  I couldn't have been happier.
What's the one Halloween question you want to be asked and what's your answer?
Clever answer:
Question: Do you want to see something really scary?
Answer:  [attacking] Raawwwwwwwwr!
Straight answer:
Question: Would you like to make enough money doing HalloweenAddict.com to quit your day job and live comfortably?
Answer: Yes. Yes I would.